Have you ever eaten a watermelon without seeds?

Bulgaria
July 6, 2010 2:50pm CST
Have you ever eaten a watermelon without seeds? I haven't but I really want to. Imagine what would it be to eat a whole watermelon without a single seed. In fact, there are that kinds of watermelons but I don't know where I can buy from. I really want to try? Do you want to try that kind of watermelon
4 responses

• Indonesia
18 Jan 11
Its was one of my favorite fruit especially when the weather is hot. Its totally refreshing. I can eat it so much. Seedless watermelon really popular here and really cheap too. We had it almost the whole year its come in yellow and red color. I find the yellow one sweeter but the red one more popular in the market.

• United States
11 Jul 11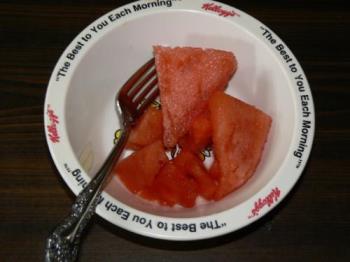 We buy the seedless watermelons... they do not have the big black seeds but they do have little white seeds or very small black seeds. I dont feel any better about eating them then I do the big black seeds so I cut up the watermelon and pick all the white and little black seeds out. Seedless watermelon costs more so I was surprised when I bought my first one to see that it did have seeds... just not the big black ones.


• Canada
18 Sep 10
I have tried a lot of different kinds of watermelon because I grow them inside. You can also grow them inside, anyone can! I found out how to grow them over here http://gomestic.com/gardening/how-to-grow-water-melons-inside/