santol fruit

Philippines
August 1, 2010 8:41am CST
i'm eating santol fruit right now and i'm wondering if what nutrients can i get from these...?
5 responses

• Philippines
2 Aug 10
And aside from nutrients it can also be made as santol juice. My favorite is when you peel it and you eat it with salt. Bad one thing I don't like about it. That after you eat it, you will have a bad breath so better take a mouthwash or brush your teeth after wards.



• Philippines
5 Aug 11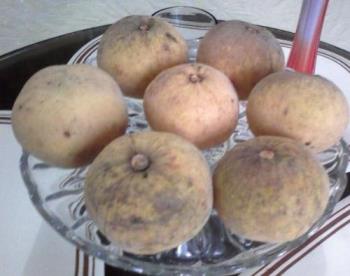 Santol is a tropical fruit which has a combination of sweet and sour taste. We love it with salt. Now here I am adding a photo of santol. I hope I could successfully attach this to this post for you to have a better idea of what santol fruit looks like. For all you know this fruit is also found in your locality but of different name only.


• Philippines
1 Aug 10
Like all other fruits, santol is rich in Vit. C, having that sweet-soury taste. It is commonly in season during summer and they say that the kind they call Santol Bangkok is the biggest and the sweetest.

• Philippines
1 Aug 10
For those who do not know what a santol is check out wikipedia. Its a good source of Vitamin C. A little calcium,Phosphorus, Iron, Carotene, Thiamine, Niacin and a good source of fiber.