Under Water Mortgages: Your House Is Worth $300K but you owe $400K Now What?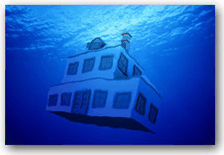 United States
August 4, 2010 4:29pm CST
It's estimate that millions of mortgages in America are now "under water" or "upside down" with mortgages higher than the homes are worth. For those people making their monthly payments, wouldn't that be equivalent to renting with tax benefits? Why doesn't your Bank reduce your principal to match what the house is worth in today's market and adjusts your monthly payment accordingly? What if you want to sell an under water home?
2 responses

• United States
4 Aug 10
Unfortunatly millions of people are in this situation. The reason why is banks and loan companies were offering interest only loans. Most homeowners who got into this type of loan really didnt understand what they were getting themselves into. It got way out of hand. Most of the trouble with the economy is due to the rappid home buying at these price levels. Thinking oh heck, I can afford a 400k dollar home on a 45k dollar a year income. NOT....Once siging on the dotted line for a home loan, your stuck with it...If you sold for under what is owed, whatever is left on the house, you will owe....Unfortuantly!

• Philippines
4 Aug 10
I think only those houses which have had grave damaged should try the option of selling it to be able to lessen their sufferings. Probably they could still put up another dwelling if the payment has already been handed to them.