Favorite Weasley?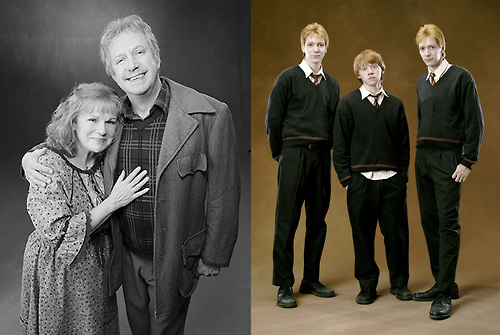 United States
August 12, 2010 1:40pm CST
The Weasley's are pretty much Harry's adopted family, big adopted family. Which is your favoite family member? I think my favorites are the twins, Fred and George. I love their mischievery and humor, plus I love the actors that portray them in the movies. I like Ron, too- he's probably my second favorite Weasley and Ginny is my third. I don't really care for Bill because he's not really a main character. I do not like Percy, though, as Ron and the twins say I think he's "the world's biggest git."
8 responses

• Malaysia
27 Aug 10
i love mr weasley!! he is kind,loving,big-hearted and many good side as long as he do not act like mr malfoy..

• United States
21 Aug 10
Ron is by far my favorite. I think he's hilarious and we are both afraid of spiders. One of my favorite lines from the 5th movie is after Umbridge is finished giving her speech and Dumbledore makes a comment that is was illuminating and Ron says, "Illuminating, what a load of waffle."

•
14 Aug 10
Ron, Mr Weasley and the twins are easily the best. I dislike Percy and Mrs Weasley. I don't have much to say about the other Weasleys.

• United States
14 Aug 10
I think ron's hilarious XD the twins are alright, they can be funny, but at the same time, their brand of funny is sort of immature, and it gets old pretty quick. Ginny's my favorite though. She has Fred and George's mischievous streak, but she just comes off as a badass. And i respect her for being the only weasly girl (besides her mom)

• India
13 Aug 10
My altime weasley family member is Mrs. Weasley. She is so affectionate, hard working, caring for not only her family members but also for Potter and others that I see a perfect mother in her.

• United States
12 Aug 10
I think my favorite Weasley is the mother. She is funny, kind and touch at the same time. I really liked her after what she said in the last book.


•
12 Aug 10
You have the same outlook as I do. Ron and the twins are my favourites. Always funny and charming, although I do have a soft spot for the parents too. As for Percy though... No one like Percy!