Why do donuts have holes?

United States
6 responses

• Philippines
25 Jul 12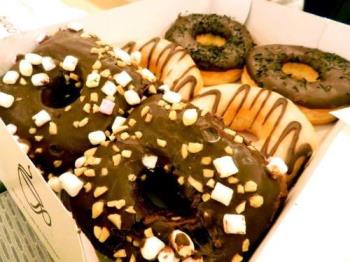 Doughnut have holes so it will look attractive to the buying public. If it is just plain round it will be ordinary looking. So I believe the main idea why doughnuts were originally with holes is to make it look unique so as to attract buyers. But nowadays, as people have already been used to doughnuts with holes, they are making variations. There are round ones but no holes, there are also square ones, some are oblong, triangle and some are even triangle. I actually love the plain doughnut with just sugar on top. I think this is the best doughnut of all. But I also love nutty doughnuts. I avoid very sweet ones.


• United States
20 Mar 12
No idea why they have holes. But I do like the donut holes when Dunk'n Donuts would sell them but there isn't one of those nearby and I don't like the ones in the bags they sell at the grocery store as they don't seem as good or fresh. Krispy Kreme glazed are awome. However, it's a rare treat for those as well since the craze of Krispy Kreme has faded and there's only one shop in the area 30 min away. If anything I settle for day old's from Super Wal-mart or the rare trek to a grocery store that's 10 min away but they have my favorite one there usually.

• United States
17 Aug 10
Haha, this is funny because I read about this on a website! :D According to a website called omgfacts.com, doughnuts have holes because of a 16 year old sailor named Hanson Gregory. Doughnuts existed before but the inside was always greasy and undercooked so he cut a hole into the doughnuts and made sure to do that with all the doughnuts he ate. When he went home and told his mom, the rest was history. :]

• United States
13 Aug 10
That's a good question! As far as for me , I don't know. All I know is that they sure are easy to eat and all so very delicious.


Take care Snow


• Philippines
13 Aug 10
well dont really know the answer but i have seen some documentaries on how they make donuts and they make a hole so its easier to make.

• Canada
13 Aug 10
I'm not sure, I like the shape though. Maybe it makes them easier to grip? OR maybe they cook better like that. If there was no hole the middle of the donut might take longer to cook. Who knows, either way, donuts are good.