Okay video conferencing for custody visits....really???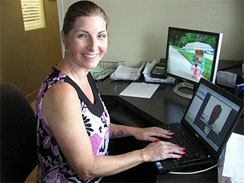 Atlantic City, New Jersey
August 13, 2010 3:30pm CST
So I just read on cbsnews.com that a judge Sees Skype as Solution to Custody Battle because a woman is moving to Fla. due to her home being in foreclosure. The father lives in Staten Island, NY. I am not sure if I agree with this type of custody. Is it really healthy for the children to just see their father via video conferencing? Would you be able to do this type of custody visitations? Would you appeal the judges decisions? Check out the whole story here: http://www.cbsnews.com/stories/2010/08/13/ap/strange/main6770109.shtml?tag=cbsnewsLeadStoriesAreaMain;cbsnewsLeadStoriesPrimary
1 response

• Canada
13 Aug 10
I was married once a looooong time ago and thank God we didnt have kids, BUT if we did, Id be SO happy to let the kids see their father via Skype. It means I wouldnt have to see the sperm supplier to begin with and the kids wouldnt be in the same room as him either. Id feel that me and my kids would be safe. I think its a great idea.!!!!!!