My Baby Boys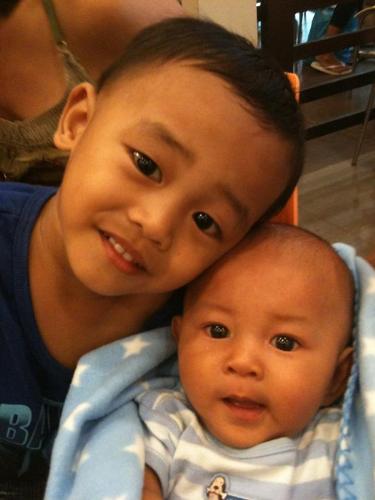 Philippines
August 20, 2010 1:11am CST
The older one is Zac Kian Chrizter Birthdate: November 17, 2007 He's now in pre-school He wants to be a Doctor and I want it too. The younger one is Zyr Kiel Chrizter Birthdate: January 11, 2010 I want him to be a surgeon. They are one of them who complete my life. May God Bless us always! They are soooooooo cute, aren't they? Just like me. LOL
4 responses

• Philippines
20 Aug 10
Hi Brokerhouse, you have a happy post here but caution is necessary. Do not put names and birthdates of your children. Ask admin to delete at once.

• Philippines
20 Aug 10
No need... Just a birthdates and Firstnames... won't do anything about my privacy.. Thanks for the concerns anyway...

• United States
20 Aug 10
A gentle response I believe what eileenleyva was trying to say is that right in the faq section it does say personal information is not allowed. Trust us when we say try you hardest not to do so and discussing personal events will defiantly get your discussion deleted and all responses as well. This discussion will be stumbled upon another myLotter and betcha it will be deleted. There are numerous myLotters who literally go around looking and fishing for violations, they post about it happily when they do it, and being that I see you have 15 posts thusfar I find that you are fairly new and perhaps not aware. As myLot lists in their alerts please take these alerts serious. What they mean by that if you get too many you will be banned, it happens everyday I see happen daily. Your children are beautiful God Bless and thanks for sharing.


• Philippines
20 Aug 10
Not to burst your happy bubble or anything, this is out of concern, posting too much detail about anyone in the Internet is bad. You should be careful about your privacy and the privacy of your children. Giving the full names and picture of your children could help people scam you. Be careful next time okay dear?

• Philippines
20 Aug 10
Worry not. It's just a birthdate and first names...LOL


• Philippines
20 Aug 10
Thank you! and God Bless you and your family too...

• Philippines
20 Aug 10
Is Zac Christer in nursery? I am sure you are very excited to send him in school always. I wish him to be successful n life.......