I am planning to gift a digital camera to my sister. What is your thought on it?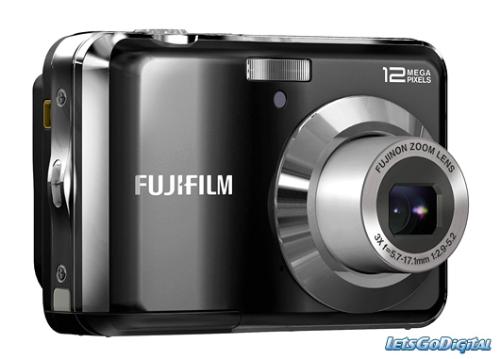 India
August 22, 2010 9:18pm CST
Its been a while since I am planning to gift a one for my sister. Finally i got my hands wet. Yes I have decided on the model which has taken a while for me. I have decided to buy Fuji AV 100 model. It costs around 90$ only and it is a very good one. It is a 12MP camera with 2.7 inch display. Along with it it has got HD recording which is what i like a lot about this camera. Apart from that the aspect ratio and aperture are good in this as a professional camera person will look. The optical zoom is only 4x which is fine for my sister as she takes only short range shooting. Share your thoughts on the same
6 responses

• United States
23 Aug 10
Hello xorticanz, This sound like a really cool camera for yoru sister. How old is your sister? If she is over 14 years of age then I think she should be able to handle this camera without too much instruction from you. I would still show how to use it and how to change the battery etc... Have fun taking pictures with her. Thanks and have a great day! Sincerely Unique16

• India
23 Aug 10
She is an elder one for me. She knows well. Anyway as an engineer and brother i love to show its power.

• Australia
28 Aug 10
Well, xorticanz, this is a very basic camera, and if you hope that the aspect ratio and aperture are good in this as a professional camera person will look, you will be terribly disappointed. The zoom is actually 3x, not 4x, although for an extra $10 you could get the next model up in the range, which has a 5x zoom. The Fuji would be a nice first camera for someone who has no interest in photography for its own sake, but would like to be able to get the odd snapshot or short video clip in bright light (sunlight). If that's your sister, go for it - it is really cheap and at the price it is a better camera than you would expect to find. If on the other hand, she has any experience with cameras or wants to follow it as a hobby, then I recommend you talk it over with her and get a camera that can provide better images under a wider range of conditions than this little point-and-shooter. The Optio H90 is about the same price (well - $20 more) but in terms of features, quality and finish, it is a mile ahead - and it produces much better photos, too.

• Israel
23 Aug 10
Oh, that is a very lovely gift! I am sure your sister will love it, I know I would if I was her! Go for it! You are such a wonderful brother!

• Philippines
23 Aug 10
Hi. I bought an entry-level digital camera and I've been happier since. I'm more into capturing moments, not really on the artistic side of photography so I'm sure your sister will be thrilled. Try to compare this with the other models, the other models might offer something better. I have a pink Sony digital camera. The features are not that superb but because I'm able to capture the moments, then I'm very happy with it.

• Philippines
23 Aug 10
Considering the price and basing on the specification of the camera, I think it is a good buy. Though I don't have any personal experience with Fuji. I have only tried samsung, kodak, sony and canon. What you present is only an entry level camera. You couldn't go wrong from it. Not unless it has some factory defect. My advise is to search the net first about the model you are aiming to buy. Look for reviews from first hand users. That's what I usually do before I buy something. Just to be sure.