Where have they gone?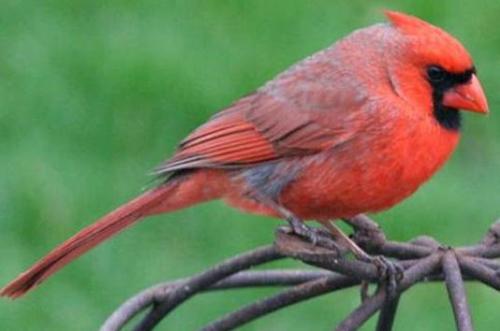 Canada
August 24, 2010 1:16pm CST
We have a large backyard and we hear the birds chirping and see them flying by, some will stop by the deck and sit there in the sun. We have about 100 trees so lots of places for the birds. I can hear them starting to chirp at 3AM and since I go to bed around 5AM, I can fall asleep listening to them singing. Well for the past three weeks.......nothing!!! Its still very hot here so surely they havent gone South already. I dont hear them anymore and I dont see them flying by or stopping by the deck.......nothing!! We usually have little birds that will stay over even in the winter and I dont even see those.....notta ....not one bird in sight!!! We havent seen any dead birds lying around, so what could have happened? Have you noticed anything similar where you live?
4 responses

• Carlisle, England
25 Aug 10
Mmm, I don't know about your situation but Mum has a large garden and at certain times of the year you just don't see any birds AT ALL. They are definitely there but she can't remember why they remain so quiet. I noticed it a while back, then the next time I visited there were more of them, flying about, probably feeding their young. I do know that starlings, in particular, get caught in nets and killed in Italy so there aren't as many around now in the UK. I also know that if there are magpies in the area they steal eggs and kill other birds..and they haven't been around this year, so the other birds have flourished. I'm sure Sir David Attenborough would have the answers!


• Canada
25 Aug 10
Yes Im sure he'd know whats going on. Maybe I should email him then. Its the first time I notice not having any birds at all....its really weird. Theres a restaurant quite a distance from where I live but its close for the birds as we usually see them flying (sorry I dont know what they're called, but you see them all over the world, theyre big and sort of white) well I cant even see any of those. I have a weird feeling about this and I dont know why. Thanks!!

• Carlisle, England
25 Aug 10
It is worrying and I share your concerns. The wildlife around Mum's seems to come and go in cycles. However, there is a major reduction in house sparrows. When I was little I remember seeing them everywhere..blackbirds too. I don't think cats are to blame..some cats hunt, some don't, it depends on what kind of nature they have. It's all a bit of a mystery..worldwide, it seems.


• Canada
26 Aug 10
We did have those big black bird last week, there were 4 of them and thei kept arguing with each other, it was very annoying to hear them croaking. Could it be they scared off our birds? They were in our trees and hubby shooed them away. I dont even hear those anymore. Oh the mysteries of wildlife......youre right, we think we know it all but we're anywhere near it lol. Thanks.


• United States
24 Aug 10
When it is very hot birds like everything else just stay still in the shade to try to keep kool. Do you feed the birds? I notice more of their habits when I feed them. I think they are starting to move off for the winter, there are less at the feeders lately.

• Canada
25 Aug 10
Yes we have feeders and water for them and we also have lots of shade for them to hide into but its been cooler for the past week or so and they havent come back. So you think they've already left for the winter? We still have at least a month before we can even think of the cold......maybe more!! Thanks !

• Romania
24 Aug 10
In my backyard,somwhere,in a tree, I saw a nest!I was surprise,because I never saw that before(I living near a street and noise of the car disturb birds).This happened in the spring and my daugther was very happy! But,in the summer,birds go on!And I asked someone why?He told me that birds "run away" from heat(here is a very hot summer this year). Maybe this happened with your birds,too! Have a nice day,magicalbubbles!

• Canada
25 Aug 10
So that would explain it, well yes its been VERY hot here but now its cool again, so shouldnt they all come back? We had water out for them and bird feeders. Maybe we'll need to make a air conditioned space for them now lol. Thanks for explaining this. I sure miss all the birds we had in the backyard....we had lots and lots of them.

• United States
24 Aug 10
I have not noticed anything like that, but perhaps it is that it is too hot for them to be active right now. Maybe some extra water sources or some food would be good. When we put the sprinkler on the garden the birds all love it and come and fly back and forth through the water.

• Canada
25 Aug 10
We tried that but .......no birds!!! Ive seen squirrels around but surely they dont eat birds, do they? Last night hubby saw a fox while having a walk with our dog.....cant believe a fox would have eaten all our birds.....but I havent seen the wild rabbits for a little while now too. Wish I could find out whats going on....oh by the way, its been much cooler for the past week.......but still no birdies out there! Thanks