Which one you like more:: Colbie Caillat or Sara Bareilles?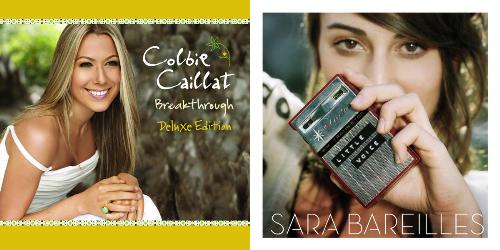 Singapore
August 26, 2010 11:15am CST
Both still consider as new artist for me, both not really beautiful but very down to earth, both play instrument and write their own song, their song style are quite similar as well - fresh and simple, so do the popularity and album sales, which one you like more? Please share the reason. I love them both, I just can't pick one. Click on the photo at left if you don't know who they are.
2 responses

• United States
26 Aug 10
I absolutely love girl singers and girl fronted bands but this one is tough for me. I think I would have to go with Sara Bareilles because her voice to me is just so raw. She writes her own music, not saying Colbie doesn't but isn't her father a producer and writer? I think I can relate to Sara more in her music which is why I like her. Like I said before I think she has a raw sound and seems to sing the truth and be honest.

• Singapore
27 Aug 10
One of the reason I love both of them is due to the pure and rawness in their vocal, and their song sounds melodic instead of mechanical, their genre is pop but is more close to acoustic. Besides, their live performance are really awesome, some of the live performance sounds better compare with studio version.

• Canada
9 Nov 10
same thing here, i like them both, i love there voice, i like listening to there music every morning when i'm having my coffee, but i find it sara bareilles is more sexy for me, i think i falling inlove with her