WOW! TO ALL OF YOU, specially the Filipinos and the Hong Kong guys, please read!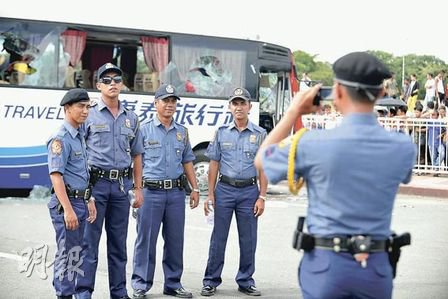 Philippines
August 26, 2010 11:30am CST
i just opened my FB and i saw this: http://www.facebook.com/pages/I-hate-Philippines/122850851098167 feel free to view this page. a friend of mine wrote this; This is purely humiliation to us Filipinos, Hong Kong nationals should not do this... this just shows how ignorant they are... what happened at Quirino Grandstand had also happened in some part of the world. We're deeply sorry for what had happened, we're as shocked and devastated as you are about what had happened, we understand where this anger coming from but it doesn't mean that you have the right to judge and condemn us all Filipinos for the mistakes of others. we're as hurt as you are and this is getting way out of hand, it's as if your'e declaring war or something what you're doing can trigger into something big which we don't want to happen in the future... if you ask me, this reaction is just normal. i haven't seen the whole hostage drama coverage but i did saw the pictures of police men and some students posing for a photo and the background was the bus. wtf??! the Hong Kong people would see this as an insult. they were all smiles and sh*t! what the h3ll's wrong with those idiots?
6 responses

• United States
26 Aug 10
Just like Mikansei, I reported that page and the more people who report it, I hope the faster they take it off. That is stupid, I really don't know what happened, but to put up hateful and disgusting photos and pages is wrong!!!!


• United States
27 Aug 10
I think they should remove it since it was reported as a hate based page..



• United States
28 Aug 10
I still think that part should be removed along with the finger picture, but I guess I can't make them do more than they already did..At least those photos are gone..

• Philippines
27 Aug 10
Their hate is understandable, both for us Filipinos and Hong Kong nationals. But they lack understanding. We cannot reason to those kind who thinks only what they want to. We do not have to go down to their level. Let them have their own way. Their account should be deleted. Anyway, it's not like what happened was the most horrible thing around the world. Worse has happened in other countries. And still the world moved on. People moved on. I only hope they would wake up and smell the roses and feel humiliated themselves for their snide remarks.

• Philippines
28 Aug 10
Yeah lets just understand for now. What I do is I don't read any hate articles about the Philippines because I'm sure there are lots. We cannot face anger with anger. These will all pass and I'm sure after the mourning wounds will heal and so does relationships.


• Philippines
26 Aug 10
Oh goodness this site is full of hate! We understand that they are angry but this reflects what kind of people they are! Although I am not referring to the whole just to the idiot who created that page! What has been done cannot be undone. However on that note haven't they killed or maltreated our OFWs in their shores too? It is not an isolated case but it seems to happen all the time isn't that shameful as well? Hypocrites!

• Philippines
3 Sep 10
I posted topic about this incident day after it happened asking an apology to all of our Chinese friends. It was normal since the victims are all their citizens. There's nothing we can do but accept what they think about Philippines but not all Filipinos would act like horrible crime. Are they all perfect? We all commit mistakes and transgressions. Past is past, that could not be brought back again. The only thing we could do is review the incidents and find ways to prevent for another horrible thing related on that incident. Mobhomier here...


• Philippines
27 Aug 10
this is due to anger that is why one posted such page although we can't blame them for acting this way but since the Philippine nation has already given their deepest apology to Hongkong nationals, we must remain intact and keep our nation protected as well. we should show them that not all filipinos have this type of attitude. this was only one of those incidents that also happens in other parts of the world. it saddens me one time seeing this website consisting of lists of countries dangerous for them to travel with corresponding colors to it. black, red and yellow.. black is their most threatful country not to go to or visit in and only Philippines was listed on this category. sigh.. hope everything falls into it's right place and 2 asian countries be reunited again just as before.