Bad Words!!!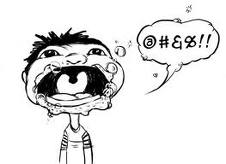 Philippines
September 8, 2010 12:16am CST
I just cannot understand why other parents teach their children not to use profane languages when they, as adults, use those bad words carelessly, and guess what...in front of the young ones! Parents would get mad when they hear them say those foul words, but didn't they realize that they were also the ones teaching their kids that it's alright to do it?
3 responses


• Philippines
8 Sep 10
I agree with you. They much be a role model in our house. If they getting mad or they gonna shout they must be on there room or went to a place that their children won't hear them. I think you gonna hear shouting and saying bad words in the low class level.

• Philippines
8 Sep 10
Parents doing this do not understand what their influence to their children. They are not true of what they are teaching. They forget that their children will learn more from them as an example. I should say that these parents are irresponsible!