Now is the best time to plant cuttings and grow new plants...

Mangalore, India
September 10, 2010 11:34am CST
Monsoon and rainy season has many advantages.It is an enjoyable period when the weather is cool and at its best. The only hassle is the water logging , the wet streets and difficulty in doing any outdoor activity especially active gardening that we do during the rest of the year.Instead now I am collecting cuttings from friends and acquaintances and planting them so that in a month's time, they grow to be new plants. I fill plastic bags with an equal amount of sand and garden soil and stick these cuttings into them.Normally they begin to grow new roots within a matter of 2-3 weeks . It is not possible to do this at any other time as easily as we are able to do now...
5 responses

• United States
11 Sep 10
Things are totally different in US. Now people are finishing the gardening season here. Winter is severe here so, almost nothing will survive in the most part of the country. May be it is little bit different in states like Florida and California. Do you have a big garden? You can share photos of your garden with us. Hope you have a great gardening year!

• Mangalore, India
11 Sep 10
Hi sweetlady, thanks a lot for the response - yes I understand that gardening would be different in different parts of the world depending on the weather.I have a fairly large garden and lots of fruit trees like mangoes,jackfruit , bananas ,papaya etc;will share some pics, have uploaded the jack fruit that we got this year...all the best and happy mylotting


• Philippines
26 Aug 11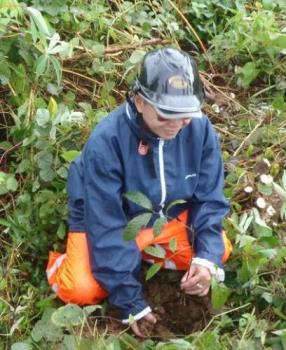 I have enough trees in my yard and they have been helpful in keeping the surrounding cool. But I still collect tree seedlings because as the rainy season comes we plant the tree seedlings in our farm which is some 20 kilometers away from my home. It is a rice farm but I want the surroundings to be filled with trees so that we could have more shaded resting areas whenever we visit the place. Yes,rainy days is the best season to plant indeed. The seedlings are kept alive by the rain water and they grow faster as well. Let us all plant trees whenever rainy days come. This is the best way to go green.

• China
12 Sep 10
I have manu kinds of tree , my mother plant fruit tree and pick the fruit to sale , it contain mango tree ,papaya tree ,coconut tree ,guava tree ,cherimoya tree ,lichee tree ,longan tree ,banana tree ,tangerine tree,jackfuit tree ....i needn't to buy fruits on market , when i live town i eat fruit every day ,my favorite fruit is lichee .because i birth at county so i have good skill of climb tree . i am happy you share your message here ,nice weekend !

• Mangalore, India
12 Sep 10
Hi green, thanks a lot for your response and thanks a lot for adding me in your friends list. I am glad to know that you have so many fruit trees in your home and can afford to eat as much fruit as you wish. Not all are lucky that way...all the best and happy mylotting


• India
11 Sep 10
Hello usha Here in my city though it is 11th of september, we have not a single day of good rain, my wife is very fond of gardening, where ever she goes she collects some plants or cuts.. Last week she had gone to my daughter's home, while coming she brought cuts of rose of different colors, planted them in our roof top garden, but they dried up.. You are enjoying your gardening, best of luck.. Thanks for sharing. Welcome always, cheers.
Professor.
.


• Mangalore, India
11 Sep 10
That is too bad professor- btw when is the rainy season due there? we have had more than enough this time round. It has filled every river,reservoir and lakes and just about everything here, all are on the verge of overflowing...I dont get to do much gardening now because of the rains , just planting some cuttings ...have a nice evening and happy mylotting


• Philippines
10 Sep 10
Hello there! It is good that you are making the most out of the season in tree planting or just ornamental plants. You are being a great help to mother nature and bring balance in the environment. Me myself is an advocate of tree planting in our community and summer time is the best time for planting and since now it is hot and it just seldom rains, It is wise to make the most out of the weather. Planting trees will let your surroundings green and not too hot. I also wanted to plant fruit-bearing trees and vegetable plants. My mother is the one who is fond of planting ornamental plants for the beautification of the surroundings. Continue to be a great part of preserving nature by continuing doing that good activity.

• Mangalore, India
11 Sep 10
Hi aaron,Thanks a lot for sharing your views here ,I wish we had some more garden space , then I too would have had a couple of more fruit trees.We already have 3 Mango trees, a Jackfruit tree, a papaya tree,Banana plant and a custard apple tree all bearing fruits...Does your mother have a lot of plants ? - all the best and happy mylotting