Biswakarma Puja today 17th September 2010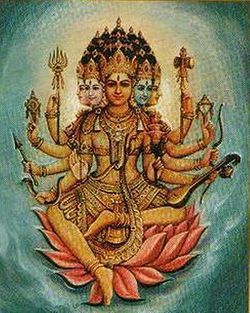 India
September 17, 2010 4:35am CST
Friends,

I have shared about our festival, culture, traditions always in pages of mylot, my friends have always liked that. Today is 'Biswakarma Puja '; it is an important observance and festival in Bengal, Orissa and other parts of Eastern India.
It is dedicated to Biswakarma, the divine architect of the universe in Hinduism.
According to mythology it is he who created the entire universe as well as the heaven and the earth. He is also credited for creating the missiles used in the mythological era, including the Vajra the sacred weapon of Lord Indra, from the bones of sage Dadhichi. He is regarded as the supreme worker, the very essence of excellence and quality in craftsmanship.
He is the patron god of all the workers and engineers providing them with courage and inspiration. Today is Government holiday here. All over the country factories, workshops and manufacturing units are in festive mood. Most of the shop spaces are cleared to make way for the deity. Freshly prepared idols of Lord Biswakarma are installed at workplaces and factories. Special pujas are held on the day. Workers organize and participate in cultural activities and there is also sumptuous feast on the day.
You can view the celebration in you tube: http://www.youtube.com/watch?v=p_PpUwkGDaY&feature=player_embedded The yearly feast is cooked, where the workmen and the owners lunch together. Throughout the day colorful kites are flown. The sky fills up with all shades and colors. The sky becomes a war zone with the discarded kites dropping every now and then. Actually, Artisans, carpenters, craftsmen, mechanics, smiths, welders, industrial workers, factory workers and workers of all kind worship Biswakarma on this day and pray for a peaceful life, good future, safe working conditions and success in their respective fields.
Bishwakarma puja is an inspiration for many to create new products and increase productivity for the working class. The workers at many places make resolutions to perform better from this auspicious day.
There are 23 places in my city celebrating this festival. My son Subash, a computer engineer is having his own.
I am sure you liked this. Just see the video and see the celebration.
Any such festival at your place? Comment on this story.
Professor

1 response

• United States
17 Sep 10
Very nice for this kind of celebration we dont put up effigies but our LAbor day is about the same have the day off to do what ever ya want to do. REally the last of summer before school use to start a great day for a family get together

• India
18 Sep 10
Thanks for response madam. Welcome always, cheers.
Professor.
.