For experienced mother..i'm gonna have a baby soon..

Malaysia
September 26, 2010 7:29pm CST
I'have just married 10 month ago and my wife is pregnant now...i really happy to have someone new in my family...i need to know you experiences of giving birth your baby....let we share the glory!!!
3 responses

• United Kingdom
27 Sep 10
Congratulations on the news that you are a father to be. It is important that during your wifes pregnancy she eats a healthy diet. She might feel more emotional than usual due to hormone changes. I have three children. I have a home birth which each one of them. I like to have an active and as natural as possible birth. I use water for pain relief in a birthing pool, breathing exercises and if I need to have it gas and air. My first labor took nine hours. My second labor was super quick at two and a half hours. I had a seven hour labor for my third labor. Having a baby is a glorious experience and it is lovely to see a baby grow into a child and then a grown up. My oldest son is now 15 years old, my disabled toddler son is 3 years old and my baby daughter is 15 months old. Good luck with the birth of your baby and I wish your wife well in her pregnancy.

• Cagayan De Oro, Philippines
27 Sep 10
Hi buddy, soon you'll be welcomed to "The Club of Sleepless Nights". But first you have to go through the drama and suspense of childbirth, few husbands could ever watch it live as it happens. Believe me, I've got two of them. But the rewards, if you can make it, can surpass your wildest expectations. My best wishes to you. As the song goes: "The first cut is the deepest." Once again, wishing you the best of luck. How I wish I could go back to that first time... well, I'm just wishing. P.S. By the way, keep us citizens of myLot posted as we all hold our breath so we can start to sing "When a Child is Born" when the big time comes.

• United States
27 Sep 10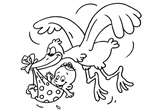 I had two wonderful experiences myself as I have both a girl and a boy. It is as if I have two additional chances in life to correct all my past errors, as the joy and blessing I receive on a daily basis with my children will always supercede an form of life enjoyments for me. Congrats... Congrats...