electrical shock.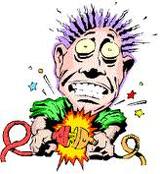 Pakistan
September 27, 2010 10:28am CST
what are the some possible side effects from electrical shock?
2 responses

• United States
27 Sep 10
Not too sure, but I think you could get brain damage if it is of a high voltage. I knew someone when they grew up from the shock it scarred them. It was when they had bitten a wire as a child. It was a large scar on their face. It was pretty bad. This was because it was also a direct wet surface from the moisture in the mouth.

• Pakistan
28 Sep 10
yes shock can also cause of brain damage thanks for response.

• Pamplona, Spain
1 Oct 10
Hiya master, Seems the effect of an electrical Shock can be quite a few. Apart from Brain damage there could be permanent damage to the Heart altering the way it beats and so on. Burns to a certain degree could be sustained also. Damage to the muscular and nervous system could be possible also and would depend on the amount of Voltage you have been exposed to. Some are left with altered states of the mind and fits and pins and needles in their arms and legs.