I have a friend that I dont like him/her i use him/her for money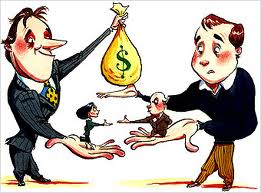 Pakistan
7 responses

• United States
1 Oct 10
Anyone who would just use you for anything is not really a friend. In friendship there is give and take. If this person never wants to spend time with you just talking, or just to hang out and do other things together, and is only taking from you, chances are pretty good he/she is just using you. That's not right.


• Philippines
28 Sep 10
that's disgusting! im not pro for those people. there was this one time, that one of my girls' was taken advantage because she was rich. she let those people took advantage of her and it annoys me because they are the weather friends type. why the need to take advantage of people in the first place right?

• United States
28 Sep 10
I am actually experiencing this currently, as when I was working and making loads of money, I kid you not that I had hundreds of what I thought were friends. Right now I am going through an awful situation as I lost my job 9 months ago and can I tell you that when I was working my phone, texts and emails were 24/7, well now that I do not have money, I have not even received a hey how are you? It is too sad, but I have conclusion to the definition that these were not true friends and well I wish them well.

• Philippines
28 Sep 10
A pleasant day to you, As far as I believed, this is not the right attitude towards friendship. That they are just being friendly because of money. That they are just showing concerns because it is being repay by an amount of money. For me, friendship is a virtue. A gift that came from above. For this reason, it is not worth to waste an amount of friendship. Nonetheless, this relationship which pertains to friendship must be treasure.

• Philippines
28 Sep 10
Friendship never to use for money matter if they have great relationship and respect each other. For me as a true friend i can help them for money if i have and i know where to use and if he/she really in need. This is just money but depend on friendship we have. If i know that he/she uses me only why should gave them? Maybe i will give for once but not twice. If I have a friend i value them and treasure them like a jewel. I am friendly.


• Romania
28 Sep 10
Hello Mastermindskt! On this part i'm glad i have no money because at least i know that all my friend are true. I think it is an ungrading for someone to me "friend" to someone for money. You can do a lot of things for your friends, but not for money