Anyone here wants to be Dexter in real life?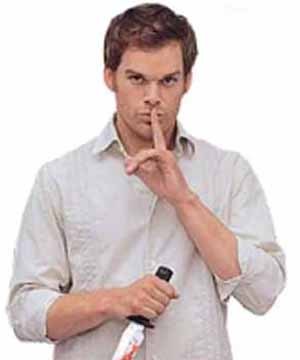 India
October 7, 2010 7:31am CST
Hey friends,i would like to know that is anyone here who wants to be the dexter(except a killing part) or who is already following him and his great thinking.I personally think Dexter is the best and when i watch dexter,everytime i feel that his charecter should be my idol.I am a very big fan of him.Hoping some quick answers guys..
2 responses

•
6 Mar 11
This is why I fell in love with Dexter in the first place. So many of his traits and characteristics reminded me of myself, and even people that I know were kind of freaked out by the startling resemblance. I think Dexter's way of living (minus the killing) is just incredibly chilled out and relaxed. He avoids any unnessecary drama and just keeps himself to himself, causing no harm (except to those who deserve it).

• Philippines
4 Oct 11
Well Dexter is such an interesting character. If its not for his dark passenger or bloody past, he can be a good superhero. I love the episode when he think of himself as the Dark Defender Hero.