Do you think India will wrap up the series by 2-0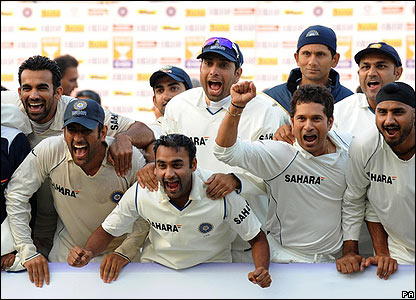 India
6 responses

• India
8 Oct 10
Yes, both australia and india played reasonably well in the first test, the match was neck to neck, but with blessings of all of india and with the help of laxman's wonderful innings india won the first test at last. I think india can win the series 2-0, but the injuries in the camp are a big concern.

• India
8 Oct 10
Yes, I agreed Injuries are big concern but India has very good Bench, they can replace plyers with good players like Gambhir with Vijay and Ishant with Sreesanth.


• India
11 Oct 10
After 3rd day of the game, match is open for both the countries. But As we have 5 wickets left and still sachin is on the crease then i can say India has good chance if they bowled well in 2nd inning and take around 150 runs lead.

• India
10 Oct 10
It is very difficult to predict the result, because though india is in best of it's form, the absense of Ishant, Laxman and Gambhir is definitely going to hit us back. The Aussies have made their position stronger by posting a huge total already. Currently they are at 371 for 5 wickets. Also the current records at Bangalore shows that India had not won a single test match since last 10 years. But still being an Indian and the current Indian form, we still can hope to get back to the game. Lets hope the Indian Bowlers get some quick wickets nad than consolidate their batting position.

• India
10 Oct 10
I didnt knew this stats that India never won any test match from last 10 years. But I hope india will break this record.

• India
10 Oct 10
India will win the series with 2-0 on Australia. With the first test win their spirits are high and we have the advantage of home ground as well. We got World Class Batting line-up and Decent performing bowlers who are raring to go. Will all the cheering crowd support no Indian player will underperform and we will win the second test as well.

• India
10 Oct 10
Yes, I agree with you, we have home advantage and we have world class batting line up.But bowlers are not bowling very well specially in 1st inning.

• India
9 Oct 10
Both India and Australia are good teams whose results can't be predicted before the match.In my opinion,India will surely win this series.May be by 1-0 or 2-0.Definitely this time the Border-Gavaskar Trophy will be in India's hands.Even though Laxman and Ishant is not playing in the test match Indian tam can do well....

• India
10 Oct 10
Do you know, currently which team is holding Border-Gavaskar trophy. But I hope, India will definetely won the trophy.

• India
8 Oct 10
Yes I think India can wrap the series by 2-0. But I think now Aussies comes back like a injured lions and also they must try to performs good in 2nd test. Because Aussies doesn't want to loose this series. And also it is Ricky Ponting's dreams to win a test match in India in their captaincy. So I think now 2nd test match will be more interesting. I think that India have ability to win series by 2-0 against Australia.

• India
8 Oct 10
I am also agreed with you. But Indian camp have some injuries like Laxman, Ishant, Gambhir. India has to come very strongly after these many injuries.