do you like ASIAN DRAMA?what is it?

Indonesia
5 responses

• Philippines
25 Apr 09
I like the two dramas you had mentioned. I had been watching Asian Dramas for years now and I had watched a LOT of them. I will try to list some that I can remember (that is it is worth watching because I still remember the title

) Korean Dramas: My Girl - love the leads and the story Full House - first asian drama I had watched and love it Coffee Prince Princess Hours Sassy Girl Chun Yang Couple or Trouble Dal Ja's Spring Sweet 18 Witch Yoo Hee Jewel In the Palace Jumong Wonderful Life Love Story In Harvard Hello Miss Mr. Duke My Name is Kim Sam Soon Stairway to Heaven Winter Sonata Autumn In My Heart Spring Waltz Love Marriage 1% of anything All About Eve Beautiful Days Lovers Lovers in Paris Only You Que Sera Sera Save the LAst Dance for me She is Nineteen I am recently watching Why did you come to my house and love it!!! Soon to watch Boys Before Flowers... Taiwanese Dramas: Fated to Love You Miss No Good Devil Beside you Why Why Love Corner of Love At the Dolphin Bay Romantic Princess Smiling Pasta Lucky Star Frog Prince Meteor Garden Silence Mars First Kiss It started with a kiss to watch Sweet Relationship Japanese Dramas: Hana Kimi - love this so much Nodame Cantabile - I want to learn how to play the piano!!! Absolute Boyfriend Hotaru no Hikari Kimi wa petto Pride Long Vacation Goodluck Gokusen soon to watch hana yori dango.... I think I listed too much


• Philippines
11 Mar 07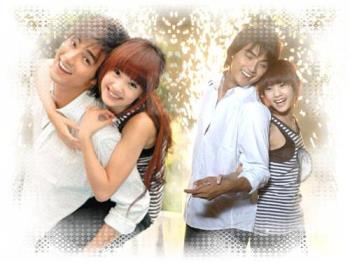 My fave Asian dramas are: Princess Hours(korean) Meteor Garden 1&2(Taiwanese) Haha Yori Dango (Japanese) Devil Beside You(Taiwanese) Mars(Taiwanese)

• Philippines
2 Feb 07
i love ASIAN DRAMAS!!!Self-confessed addict here! =p butu i'm not that into korean dramas.. i'm more of the taiwanese dramas specially those adapted to japanese mangas. these are my all-time favorites: twdrama: it started with a kiss (iswakaddictus) hana kimi (still airing) tokyo juliet the rose devil beside you love contract meteor garden mars jdrama: hana yori dango 1&2 (2 is still airing) kdrama: kim sam soon princess hours (goong) full house sassy girl chung yang

• New Zealand
17 Jan 07
ooooh we are totally opposite regarding princess hours :D i didnt like it that much at all. i just finished watching hana yori dango, a japanese series. i loved that one. i liked my lovely sam soon and jewel in the palace.

• Malaysia
18 Nov 06
i like cdrama (tvb series),kdrama and jdorama too.For tvb series ,i prefer "triump in the sky","war of in-laws",Ten brothers and ect.As for kdrama,i like 'sangdoo let's go to shcool,ijuksa,full house,goong,wedding ..etc.Recenty i watch many jdorama such as'kurosagi, waterboys , dragon zkura, 1 litre of ttears.Asian drama is HOTTTTTTTTTT..