Making up dreams?

Belarus
4 responses

• Singapore
13 Oct 10
I did not know we can actually do that? I always think that dreams are natural and they comes to us. Dreams happened when we are thinking about the same things for too long a period of time, and slowly, it turns into a dream. However, there's different from making up our own dreams because we don't have the luxury of time to complete the whole dream.

• Philippines
11 Oct 10
I don't know how but it would be interesting to find out. I don't get dreams very often, like maybe one in every couple of months. And usually my dreams are in random like i dream about a family member, a friend from high school, even people i don't know...You don't think about it, it'll just happen.

• Malaysia
11 Oct 10
Have you watch the movie 'Inception' starred Leonardo DiCaprio? It is about dreams and absolutely interesting. It even have dreams within dreams. I personally think that if we thought of something intensely in the day time (some unsolved situation), we might carried it into our dreams too. My son used to dream about school a lot. Wish you sweet and happy dreams


• United States
11 Oct 10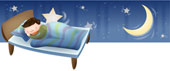 I can't make up dreams just before going to bed but sometimes I am lucky enough to pick up a dream that I had the night before. I guess if you think about something long enough that you may dream about it. I know that most of the time, I have really good dreams. I have dreams almost every night.