How do you guys make your MyLot profile so cool?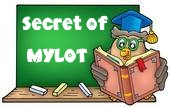 United States
October 11, 2010 8:06pm CST
I go to some of your profiles and see all your banners and pictures in your profiles of the places you're affiliated. I am so technologically challenged that it's amazing I can even work MyLot, much less do anything else! Haha. So my question is: how do you get those banners up? And how do you get them to link to the website? I would love for my profile to not look so ... bland! Haha :) I feel like it will probably be decently easy so any help is appreciated!
5 responses

• Indonesia
12 Oct 10
i don't really think that my profile is cool, you can just set up your profile by editing it, change color add HTML or someting you like to make it more cool.

• United States
12 Oct 10
Trust me, it's a lot cooler than mine was, LOL! I always felt mine was so bland with the whiteness and the words and the... ahhh! Hahah. But now the banners make it look so much more cooler! Thanks so much for your response :) HTML is NOT my strong suit, but I am learning.

• India
13 Oct 10
hey u julia.. we both belong to the same clan...me too un aware of the technicalities of this aspect of net...earlier i used net for e-mails,news only...now leaning since i joined mylot accidently ...really enjoying. A very big thank to u...coz i was also feeling the same as u did before...but now reading responses from friends and ur success feeling confident. Hope help in need thru PM...big big thankz again bye

• United States
13 Oct 10
I'm glad that the responses on here were able to help you out like they helped me! I feel a lot more confident having the banners on my profile, LOL! And it was shockingly easy. Check out the first response because he practically guided me through. It's really easy, afterall :) Even for technologically illiterate people like us, LOL!

• India
12 Oct 10
I have not made my profile so much cool. Because I always like simplicity so I never get any changes in my profile in mylot and this profile becomes now 7 months before updated.