do you feel that your actual lover is the one for you?^^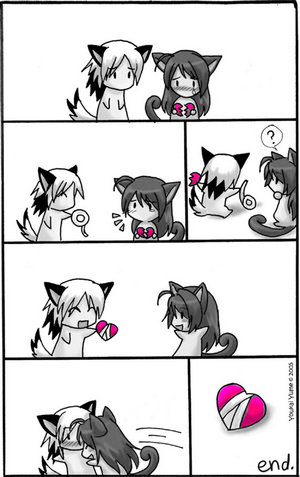 Portugal
October 15, 2010 2:35pm CST
hi guys^^ do you feel that your actual lover is the one for you?^^ about me i feel that my bf is the one for me^^ i feel that^^ i feel he really loves me but he has so many problems so i guess thats why he doesnt care more. anyway i wish he did care more for us^^ wish that we can talk today about it^^ what about you guys?^^ do you think that your actual lover is the one for you?^^ or still think isnt even you love him?^^ please share^^



3 responses

•
15 Oct 10
im single as you know but i do love to be loved and wanted, to know that im cared for and respected. Shame i don't have that at the moment

• Portugal
16 Oct 10
sure^^ we all need that in our lives^^ dont worry^^ like i said before is true craigy you are sweet, caring and a cute guy^^ there is no reason for a girl to dont want to be with you^^ just dont be sad and cheer up^^ maybe you find some cute woman in your job and maybe she will want to date you ahah^^ just look around and maybe you will find it^^

•
17 Oct 10
im looking, but i guess they aren't, lol. Time really will tell.

•
17 Oct 10
i hate that, i hate the one night stands, it is so hurtful, would make me feel so cheap. Maybe if you become single you could be the best one for me as i could for you?


• India
16 Oct 10
Hi dear, What do you mean by actual lover? What is the 'notactual lover'? Do you mean one actual lover and so may other lovers. So have real love with actual love and duplicate love with others? Or we should love so many people till we get an actual lover or what? Is it mean that we should love so many people till we get the actual one? Or we should love many and select the one who loves so much and all others will go single handed? Really fun. Regards, Thank-s

• Portugal
16 Oct 10
you misunderstood me. for sure we shouldnt date so many and then leave them like they are nothing. not that. actual lover means the person you are with now. we all have past lovers right? and got separated for some reason. so actual lover is your gf now if you have a gf now if she is the one for you or if you still think she isnt. thats what i meant.

• India
18 Oct 10
Hi dear, Yes, I know what you mean. There may be occasions we have to get separated due to many reasons like economic problems, parental issues, job mis-matching, ego problems, etc. Once we come close, then only we can identify and realize the other person. In such case, we cannot say that the other party is a lover or in a relationship. Once both like each other and after some time with some reason, they separated, we can consider the way you said. True, it happens and has to be with a few different people to settle down finally. However, thank you so much for your comments. Regards Thank-s

• Portugal
18 Oct 10
yes you are right^^

have to try with different people so you know who is the right^^ and yes sure just if they separate you can tell that that person isnt the right one^^ but if they are together they can say they are the one for each other^^ and yes sometimes people get separated for many reasons but in true love they dont^^ they always be together no matter what happens^^ thanks also for your comments^^ happy day^^





• Portugal
16 Oct 10
im happy that she is like that to you and you to her^^ but it means you found a new gf?^^ bcs i remember that days ago you said that you didnt see your gf since more than 2 monthes and that she didnt say nothing to you. so you are talking about in the past or about now with a new gf? anyway is always good to have someone with whom we can share anything^^