Thinking with a labryinth.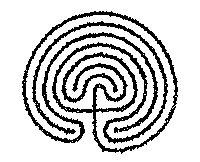 United States
October 17, 2010 10:39pm CST
Ways of thinking about whatever. Walking to the center of a labryinth and a wonderful thinking excersice if you want to try it I am sure you could find a labryinth near you. Take your time and do realise the bigger the labryinth the longer it will take you. One thing I like about this particular design is that it looks similar to the human brain. The labryinth can be an amazing metaphor and even though it doesn't have any maze like forks except for the entrance, it is still one of the most amazing dead ends you will ever experience. Though when you get to the center is it really a dead end? Maybe it is just a moment you will have to experience yourself to fully understand. You can complete the labrynith with your mouse if you want, though walking a full size one step by step I consider a much more rewarding experience.
No responses