Hot or Cold Coffee?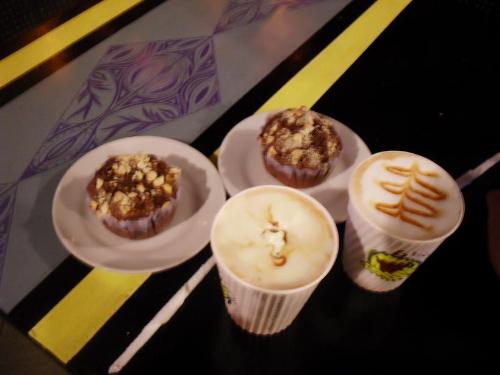 Philippines
October 18, 2010 12:21am CST
Hey there mylotters. A few days ago, my boyfriend and I went on a coffee date. I ordered cold coffee - Cafe Caramel and he ordered Caramel Cappuccino which is hot coffee. At that moment, it made me wonder the preference of some people. So I asked him why he ordered hot coffee, he said he prefers hot over cold. I on the other hand ordered cold coffee because I want to drink the coffee immediately than to wait for it to cool down. How about you guys? Which do you prefer? Hot or Cold Coffee?
8 responses

• India
26 Oct 10
I prefer hot coffee.While drinking hot coffee it feels so much of taste like anything.I will sip hot coffee little by little.It makes me very fresh.

• Philippines
27 Oct 10
I also have to agree with you on that. Sipping hot coffee does make you feel refreshed of some sort. Thank you for sharing.

• Philippines
24 Oct 10
I also usually order cold coffee concoctions. When I make my own coffee at home or at work, I usually fill up half of the mug with hot water, then complete my drink with cold milk. Delightfully sinful and yummy! :)

• Philippines
24 Oct 10
I totally agree. Definitely yummy! Thanks for sharing.

• Philippines
24 Oct 10
I always go for hot coffee. I'd like to sip it slowly. Sometimes though, when the temperature is hot but I am in need of caffeine, I ask for cold coffee.

• Philippines
24 Oct 10
I guess the weather is also a factor in your preference in coffee. thanks for sharing.


• Philippines
19 Oct 10
Really? That helps you think? That's good. A lot of my friends say the same thing too. Thanks for sharing.

• Singapore
18 Oct 10
Same here, I also wait to cool it down a bit but I still prefer hot coffee, but usually it depends on the weather. If it's a bit warm or if I know I'll be sweating like hell if i drink hot coffee, then I'll order a cold one. But if it's cold or if I will be in an air conditioned place for a while, then hot it is :)

• Philippines
19 Oct 10
Oh yes. The weather is another factor also. If it is cold, then I definitely want my coffee to be hot. But if it is really hot, I want cold coffee. But generally, I prefer cold coffee. Thanks for sharing.

• United States
18 Oct 10
im more of a cold coffee person because, like you, im to impatient to wait for my coffee to cool down. i got to know the staff at my local coffee shop so they will make my coffee warm but not hot which is great for the colder days

• Philippines
19 Oct 10
That's true. I'm a little impatient myself. Because I ordered something and I want to enjoy it immediately and I do not want to wait for it to cool down. But on rare occasions, I order hot coffee when I need it badly like when I am sick or something. Thanks for the response.


• Philippines
29 Oct 10
Hi,i want coffee every time but it depends on th e weather and my mood.I love hot coffee especially when winter time but i also love cold coffee sometime if the weather is so hot.BuT I WILL CHOOSE HOT COFFEE BETTER..