Anybody knows about the God's own country?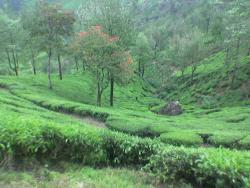 India
November 18, 2006 2:51am CST
Kerala, popularly known as the God's own country is one of the southern most states in india which has an area of about 38,863sq km. and is a land of backwaters and rivers[44].Backwaters form a specially attractive and economically valuable feature of kerala.They include lakes and ocean inlets which stretch irregularly along the coast.The staple food of the people is rice.Kerala account for 92% of india's rubber,70% of coconut,60% of tapioca and 100% of lemon grass oil.Coir and cashew are two large industries.The rich cashew taste that serves to the palates of the westerners is the result of the vast exports of processed cashew from kerala.Handloom and bamboo based industries are welldeveloped.Kerala accounts for 1/3rd of india's marine export.Cochin International Airport ltd. is india'd 1st pvt airport.Kerala was declared the 1st baby-friendly state in the world in 2002.The 1st fully literate town and district in india are in kerala.In 1991 kerala became the 1st fully literate state in india.Cochin, the major port city of kerala,also known as the 'Queen of Arabian Sea' has the 2nd largest ship building yard in india.Trivandrum,the capital city is an abode of temples,churches and mosques.Veli,neyyar dam,ponmudy,periyar wildlife sanctuary,munnar hill station are places of interest.Kalamandalam,the renowned kathakali centre is in kerala.The pantomime dance drama kathakali performed by men,the "dance of the enchantress",mohiniyattom prformed by women and thullal,the solo dance exposition are among the classical dance forms of kerala.A National Geographic Society publication has listed kerala among "the world's 50 greatest places of a lifetime",the only other indian name in the list being Taj Mahal.
4 responses

• India
19 Nov 06
You must not tell like that way why means. God's own country is india. Of course kerala is beautiful place i know. In Kerala only lord Ayappa Was Born. What about Lord Rama, Krishna, Shiva, Venkateshwara... Lord Rama is from Madhya Pradesh Lord Krishna is from Gujarat. Lord Venkateshwara from Andhra Pradesh, Lord Shiva's Jyothirilingas in 12 places. What do you tell about this.

•
19 Nov 06
Sorry for my ignorance but who are those? Lord Rama, Krishna, Shiva, Venkateshwara

• India
20 Nov 06
You seem to be regional centric.I never said kerala is God's only country but own country.I think you are terribly mistaken for these two words. Ayyappa is not confined to the people of kerala only because of which he was born in kerala.Jesus Christ was born in jerusalem but His followers are spread round the globe.I understand your love for the motherland at the same time a bit disappointed at the off-balanced mindset reflected in your response.Anyway thanks for the response


• India
19 Nov 06
it's quite natural.I too would like to visit places but living there would be a big big NOOOOOOOOOO


• India
18 Nov 06
Yes I know about Kerala, It is one of the best tourist destinations in India. Tourism is the main Industry for Keralaites. Nobody can leave keral without appreciating some of the natures wonders...... I think God himself had built kerala for taking rest whenever he is tired....... believe me its no exaggeration it is such a beautiful place.....

• India
19 Nov 06
yes tourism is one of the main industries,the IT and the service sector also have an equal standing