What do you think about Greece?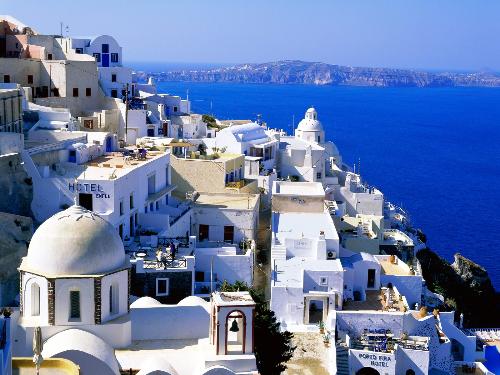 Greece
October 23, 2010 2:47pm CST
What do you think about my Country..Greece??Greece is a beatiful country with a lot of nice islands and a lot of nice sightseeings such as acropolis.A Country with a big history. Do you like greek food?such as giros or souvlaki?Did you ever visited Greece?How the trip was?!I am waiting to hear your opinions about GREECE!...
4 responses

• India
23 Oct 10
I visited Greece on a 3-week vacation with my friends. I cities I loved to see were Athens, Patra and Heraklion. Greece is a modern European country with an incredible amount of diversity in the landscape and culture. Beautiful Islands of Aegean and Ioian sea are best places for beach lovers. People who love art and culture will find the Greece offer unlimited resources. Every other town in Greece has a small or a large museum that houses the ancient finds unearthed in the vicinity. I never regret the time spent in Greece. I would recommend everyone to visit Greece at least once to see its beauty.

• Greece
23 Oct 10
I totally agree with you :) Especially because i live in Greece...You can search for a city called "Trikala"...Thanks for your reply!

• Slovak Republic
12 Nov 10
hahaha... What a question !!! I think that it takes hours to answer if someone have visit Greece and want to answer about everything in your question. For me personal, Greece is the most beautiful country on this planet for holidays. Combines everything !! First of all... SUN !!! Clean sea water, beautiful beaches, Hotels, taverns and so many many things. And the food !!!! Ooooo that food... Anyone can have perfect holidays there, with match money or with no money. I visit Greece every year the last 18 years and I hope to continue visit this country the years to come.


•
23 Oct 10
I've always liked Greek mythology, this is one of the things that as got me ever so interested in Greece. The stories of Zues and Hercules etc, just a rich background that makes it fun reading up about it. At some point in my life I would love to visit as it looks very peaceful from what I have seen. I was also extremely happy a few years back when they won the European championship.