My 6yr old daughter brung home a kitten

United States
October 26, 2010 11:17am CST
I was wondering if they get colds cause this one that my daughter brought home yesterday sneezes and sounds like he have alot of mucus in his nose on top of that he snores loud as I don't know what. Hes the cutest thing and lovable little thing he have seen. I did feed him some tuna and give him some warm milk because when she brought him home he was soak from the rain we had yesterday. Was I wrong for giving him tuna and milk to feed him cause that was the only thing I had in my home that he could've ate. But I'm going to get him some food when I get off work 2day do anyone have any suggestion on what type of food I should buy. I think hes no more then 3-4wks old cause he does go to the bathroom on his on.
6 responses

• United States
26 Oct 10
Yes, cats and kittens get colds just as we humans do but they can die from it because of congestion. They're unable to breathe through all that congestion. You really need to get that kitten some medical attention so you can get it some antibiotics because it sounds like an upper respiratory infection. Plus the little thing has worms as all kittens are born with worms so he'll need some deworming medicine as well. Tuna is fine when you don't have anything else however, cow's milk is not. Walmart or any other stores that sell pet food will have kitten's milk which usually comes in a can. Now if it's eating dry cat food, I'd get it 9-lives because it helps protect cat's urinary tract. Don't get the indoor or kitten kind, but the regular cat food. Also Whiskas or 9-lives can food is good. Now I do have a question, where did your daughter find the kitten? Did she see any of the other kittens around? The reason I ask is because the mother cat might be looking for him and if this one kitten is so sick then all the others are most likely sick too and are in need of help. Hope this helps! Let me know if you need more information and I'll tell you all that I know....

• United States
27 Oct 10
She find her in our front yard. My dog was tryihg to play with and my daughter thought she was trying to eat it. and I did look to see if I seen more but I didn't this was the only one around.

• United States
26 Oct 10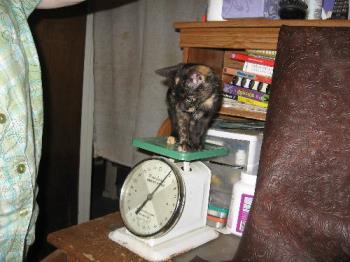 I see you have had some good advice, cats do get an upper respiratory infections (URI) and as others have told you, it can kill. I would take her to the vet for antibiotics and worming. A good vet can worm a kitten as young as a week safely (I know the black and white kitten in my avatar was wormed at 8 days.) since all you had was tuna and milk, that really is all right for a stop gap... I feed my little kittens (off the bottle) Friskies, but either that or 9 Lives (Morris' brand) or any "name" brand wet food will work. Take a pass on store brands, either wet or dry. If you want to get an idea how old the kitten is and you have a scale (like for food or a baby) kittens grow around a pound a month so if the kitten is only a month old, she should weigh 1 lbs, 6 weeks, a pound and a half, etc... I personally would feed Purina One for a dry food, during all the pet food problems, that one was never recalled, and with 30 cats, I never had a sick one (at least not with the problems the food was causing).

•
26 Oct 10
Milk can cause diarrhea so be very careful. Yes cats can get colds, keep her nose and eyes clean and take her to the vet, they will give you some antibiotics for the kitten, the visit should be that much. this is not an uncommon illnesses at all.

• United States
26 Oct 10
Get him to the Vet right away, cats at that age easily die of respiratory virus. I hope you have not other cats because if you do they will need attention also.

• Canada
26 Oct 10
Yes, cats can get colds. Tuna and milk is just fine for a young kitten. This kitten sounds like it should still be drinking its mother's milk, but since it can't, cow's milk is an ok subsitute. Adult cats should not really drink cow's milk. If you want to keep the kitten, a trip to the vet for a thorough checkup is a good idea. Living outside, it may have other health problems to tend to, or fleas! Good luck!