What is the Ultimate Instant Messenger?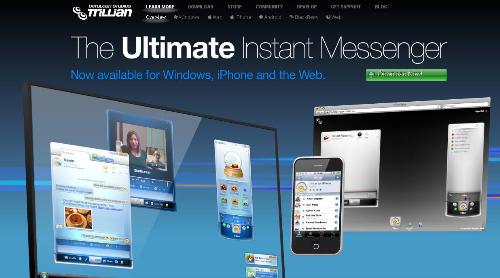 Philippines
November 1, 2010 3:46am CST
I'm using Trillian Astra Instant Messenger right now and it really blew me away. It's better than Pidgin or even Palringo. Heck I can't even relate them to each other.

This is my first time using it but its so cool. All of the Messenger Accounts are here and you can even the others if you like. You can check out their website http://www.trillian.im/learn/ I'm still checking this out but I'm liking it more and more now... Hope you can check it out.
8 responses

• Pamplona, Spain
7 Dec 10
Hiya frey, I have not looked into that one as in the future months I am having this computer repaired and I will be back on the newer one I hope. So I have not had much time to look at anything. I have chatted a bit on Facebook to one and another and the Yahoo Messenger which I still like very much because you can talk to People on it as well. Interesting though will keep it in mind thanks for the information.



• Singapore
6 Nov 10
I'm not into instant messenger as often like the past. I simply don't have much time for it. I do have MSN account, but i only use it for sending of files because it's faster. MSN is still quite popular and majority of my friends are on both MSN and facebook. What u have mentioned here, i know nuts about them. Are they your local instant messenger?


• Philippines
3 Nov 10
I only know the Yahoo Messenger and so far it's working well for me.. I never knew there were so much other more out there..



•
2 Nov 10
I use to use yahoo messenger and msn messenger(which is now called windows live messenger), but i now just talk on facebook chat to my friends as most of them don't use the messengers anymore. I always use to prefer msn messenger though because its better and has more features.

• Canada
1 Nov 10
I use something called Ventrilo, which is a sort of hybrid between Skype and IRC or other text based clients. There's a voice aspect to it, but it also allows communication via text. There's also a text to speech option. Though to be fair, Skype also allows you to type in addition to voice chat. I've used Trillian before, and it is great what with it putting all your typical clients into one easy to deal with application.

• Philippines
1 Nov 10
This is really good post u have here. I was using Skype before but lately the calls would always be cut off, so I just settled for yahoo.Facebook has its own chat box now but you still cannot view the cam in full screen. I hope it is compatible with my OS for i havent heard too about Pidgin or Palringo.I'm gonna check it out after doing my lot and hopefully, it's gonna work on my computer. Thanks.