Have you watch One Piece?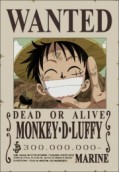 Philippines
November 2, 2010 7:50am CST
I enjoyed watching the episodes in One Piece and for now I am already in 397th episode. I am planning to watch the entire episode because I am amazed the different characters and story. I like the character of Monkey D. Luffy because he is so funny and at the same time possesses an unimaginable power from the Devil's Fruit that could even strike down the great pirates in the sea. I am happy to have watched such anime story. How about you? Have you seen it in the internet?
9 responses

• India
18 May 11
I totally hooked with One Piece anime and can never missed it's single episode.Whenever i hear about any new episode telecast from this anime, I directly visit at http://watch-one-piece-episodes-online.blogspot.com/ to get hold all latest episode collection from the series and watch it with my little bro. He love this anime and always like to watch One piece latest episodes with me.

• Romania
13 Jun 11
ive have watched one piece for like 10 years or 12 since it began actualy really like it.

• China
14 Dec 10
I love One Piece!!! especially Luffy!!! everytime I see luffy I can't help grin. he is so funny. but he is more than funny, when they faced danger he is the one who shoulder the responsibility. he always deal with the toughest guy!!! I love him. his sunny smile forever

• Philippines
27 Mar 11
Yes, I agree. Luffy is so funny and the strongest in his crew. He become mature when there are some promises made, when the situations become upsidedown and things become difficult to solve. I love the sense of homour of this anime and also the drama when there is a desperation of a character (like Vivi in Arabasta).


• Philippines
25 Apr 11
I have seen the anime, and I have to say it's one of the best I've ever watched. It doesn't have the best art, but the storytelling is just epic. I love how the creator handled his plot and developed his characters. I wouldn't say it's the best anime out there, but it does have the best story I've seen yet. I like the new characters, Sanji best. Usually, the people who cook are depicted as females or feminine men, but he broke the stereotype and came out one of the best of them all.

• Philippines
27 Mar 11
One Piece is my favorite anime, actualy my most favorite. I watched it from the beginning when he was inside the barrel. His first nakama was zoro who is using the sonturyu sword technique, then they meet nami, but nami didn't join the party yet. Then they meet Yussop, who is great in lying and using sling shot. After Yussop, Nami join Luffy's party because luffy beat up Arlong. Next, they meet Sanji, the cook and he join luffy to see the all blue. I didn't miss any episode of one piece since now. The war between Whitebeard pirates and marine is now over, this is the latest episode right now. But in manga, they are far more advanced in episodes than anime. In the latest manga episodes, Monkey D Luffy and his crew are a Haki user and really so strong. The latest episodes right now are more very exciting to watch and I inviting you guys to watch it... =)

• Philippines
15 Jan 11
i have watched one piece but havent reached that episode yet,, i was busy with school and should focus more to it,,it made me left one piece,but i really am willing to finish it now,, it's just that i havent realized that it already reached about 400+ episode,,


• China
2 Nov 10
I've been watch it for severl episodes when I was 7 grades in school.And I gave up:P.Now,I'm watching Bleach every week online,I've to say 1 piece is a cool comic,but I prefer comic style which is more like bleach~

• Uganda
2 Nov 10
I mostly watch Latormenta-it gives me great relaxation and every Wednesday I look forward to seeing another Wednesday because I get the best moments. I have never watched One piece but i hope soon i will