"I love you" HOW TO SAY ??

China
November 8, 2010 1:50am CST
She and me keep this bind, I love her already for a long time, I think she must understand I'm just loving her. so I never express my heart feeling to her. Day by day my feeling even strong but even me can't speak out"I love you". I crazy here, I can't go on, I want to say " I love you". I think she will never to be the first to say she love me, So that in night I have encouraged myself a thousand times speak out must tomorrow. but I don't think I'm weak, why its so hard to me, why she can't speak first. How to get her know that I love you...
3 responses

• Philippines
8 Nov 10
You may start my giving her three red roses or 3 pieces of chocolates or 3 pieces of handkerchiefs. Every time you give her something must be in three pieces. For sure she'll think why in threes then she may ask you, why three although she had a feeling already that you feel something for her. When you answer, it's the time for you to speak up of your love for her.

• India
12 Nov 10
Hi dear, Just say I love you. Done. Regards, Thank-s

• China
8 Nov 10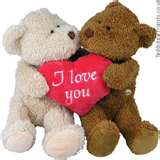 Hello johney. Girls are usually shy to say that I love you based on our culture. Therefore I think that it is better for you to be brave enough to let her know and tell her that you love her face to face, which will make her feel your true love to her. I wish you to make it these days soon. Good luck with you.