Cloth shower curtains are best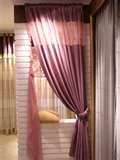 Canada
November 11, 2010 3:16pm CST
Vinyl shower curtains contain phthalate, a chemical that gives off gases that can irritate your respiratory system. Curtains made of nylon, cotton or polyester are healthier. Plus, they can easily be washed to remove mildew.
2 responses

• United States
12 Nov 10
I want a cloth curtain now! But the trouble is that they get soaked when you take a shower and that defeats the purpose. Isn't there some sort of plastic that's not bad for you that would be better?


• United States
13 Nov 10
I guess that might work. The only trouble is that for me it is almost cheaper to buy another plastic one because it costs me to do laundry here!

• United States
15 Jan 11
I'm not sure what the fabric is on mine. I want to say polyester. All I know is that I can take it down once a week and throw it into the washer and dryer and clean it. Imagine all the germs that life on those plastic shower curtains people use all the time. I highly doubt they take them down and clean them. Plus when the plastic is heated from the water and the steam it lets off harmful chemicals like you said.