MP4 and Deaf

Malaysia
November 17, 2010 3:15am CST
My children were asking me to purchase a MP4 for them. Buying a MP4 is not a problem for me. But inappropriate usage is my utmost concerned. In the news I read, a teenage from Hong Kong was listening to the songs by MP4 and became deaf. She was falling asleep when she listening to the MP4 by ear phones. When she woke up, she couldn't hear anymore. She was verified as deaf by a doctor. I have not idea if she could be recovered or not. Will everyone has the same consequences after listening the MP4 for too long?
4 responses


• Malaysia
11 May 11
In according to the news, the girl was setting the volume at the acceptable level before she felt asleep. Of course the girl would have a possibility to recover her hearing if she was lucky. After this incident, we are advised for not putting the ear phones at our ears for long hours. By doing so, the speakers can damage our hearing and we might have a very high chance to be deaf. Just be caution in using the MP4 or walkman with earphones.

•
18 Nov 10
I hope your daughter must recover... I must pray to god for her. I could not listening MP4 too long. Here i feel some problems. Headache started, I could not listening anything at first time when some one talk to me to their normal voice. After few minutes , i become cured from this disease. After that, i never listening it. And sell my MP4.

• Malaysia
18 Nov 10
That was not my daughter. Anyway, thank you so much for your concern. When we feel uncomfortable with our ears, naturally we shall take away our earphones. The problem was the teenager felt asleep for few hours. When she woke up, she couldn't hear anymore.

• United States
18 Nov 10
I have never encountered this issue, and or know anyone who does. My thinking is that since it is so upgraded that the speaker is of high powered. So the kids today for some odd reason just have to listen to the music full blast. So I can imagine this irritating the ear drums causing hearing loss.

• Malaysia
18 Nov 10
I have heard about it very long ago. but I never believed in it. If the earphone can really cause hearing problem to the end-users, the government should ban this product or the manufacturers should attach a warning instruction to the their earphones. Then I found out this incident in our local newspaper. It was really bad to that girl.

• Malaysia
18 Nov 10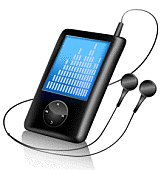 MP4 is something nice to have and if you use it in a proper way, it will not bring harm to you. But at the long run, it probably will affect your hearing if you always play music at high volume. I think if you were to control them to use MP4 for just a few hours a day, that will be fine.