My old jeans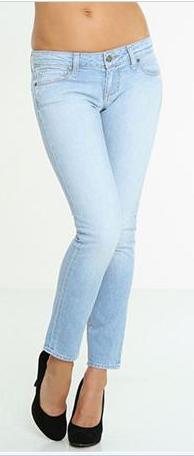 Canada
November 25, 2010 4:20pm CST
I used to keep all my old jeans because they reminded me of all that happened at that time. One day my brother came over and he saw my pile of jeans in my sewing room. He asked me what I was doing with those and I said that I just kept them. Im rather careful with my clothes and my jeans always look nearly new. He picked a pair and asked if he could try them. They fit him perfectly. He asked if he could keep some of them and I said sure. Once he left with some of my jeans, I kept wondering why I let him have them. I know I dont wear them anymore but ......maybe I could still wear them lol. What do you do with your old jeans?
7 responses

• Australia
3 Dec 10
I haven't had any old jeans for a while because I have been growing out of them for the last 10 or so years. They are all stored away till I lose some weight.

I'm a bit confused by what you said. You keep your old jeans out of sentimentality. You are careful with your clothes and your jeans look nearly new. If your jeans look nearly new, how come they are old?


• Canada
3 Dec 10
If there was a date on my jeans, then you'd know they're old but if you just look at them, they could have been bought today and not 20 yrs ago lol. Lucky that jeans havent changed that much. They go from flared at the bottom to tight. Everything else is pretty much the same. Dont give up, you'll be able to get in your old jeans eventually!! Thanks !!

• United States
28 Nov 10
My jeans seem to last forever, however my husband goes through jeans so quickly. He is in construction and he gets holes in his jeans all the time...big holes, that there is no way you can patch. With the old jeans, I make rag quilts. I also use my husband's old flannel shirts for these quilts as well. I made my first one for me, and everyone I know wanted one, so I am always trying to sew some for family and friends. I am always looking for old jeans at garage sales and stuff like that. It can be an expensive hobby, so if I can get them dirt cheap, it is better for me.

• Canada
30 Nov 10
What a good idea. Yeah Im sure your husband goes threw a lot of jeans and flannel shirts also. You need to tell your friends and family to supply their own jeans lol. You should have posted a picture for us to see your lovely rag quilts. Thanks!!


• Canada
26 Nov 10
GG said the same thing, to do quilts or hot pad for the kitchen with them. Im also thinking of cushions or handbags...so many things to be done with them now that GG and you have mentioned it. Thanks!


• Canada
26 Nov 10
Good idea to cut them into shorts and of course its great to pass them down. Thanks!

• Philippines
26 Nov 10
Usually, what I am doing to my old clothes, including jeans, I handed over to my nieces and nephews. I'd let them take a look if they like it or not. If they will like it they can have it but if they don't, my mother give my clothes to our neighbors who are less fortunate and sometimes when I see them wearing it I feel blessed.

• Canada
26 Nov 10
Great of you to give them away to your family or neighbors. I do the same also with all of my clothes that Im not wearing anymore....except my jeans!! Not sure why but I kept those and now Im happy to see my brother wearing some of them. Thanks!

• United States
26 Nov 10
OMG, I have to admit I have well over 200 pair of jeans. I have been pretty small for my size for a very long time so they all fit and still in great shape. But if I was to be rid of any I would certainly give them to someone who could use them.

• Canada
26 Nov 10
I know what you mean about keeping them all as they stay in great shape and even if they have a few holes, its the fashion now lol. I feel I did the right thing by giving my brother a few pairs, at least it made him happy. As for the rest of them, GG had a good answer and I'll sure look into that one! Thanks!

• United States
25 Nov 10
I very seldom wear jeans. I have some, and I have some old ones. I give the good ones away. I have some waiting to be recycled into quilts or wall hangings or maybe into hot pads for the kitchen They are so durable. For the most part if I have clothes that do not fit I like to give them to people who can use them.

• Canada
26 Nov 10
What a good idea to recycle them. Not sure why I never thought of that before lol. Hot pads sounds great, same for quilts or cushions. Oh you got me going now haha!! Thanks for sharing GG !!!