special message from special one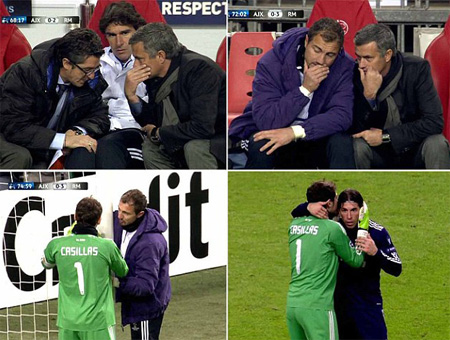 Malaysia
November 26, 2010 12:47pm CST
hi myloter what do you think about this picture ? is there any conspiracy in champions league match between real vs ajax we all see both of alonso and ramos were sent off, give me ur opinions
5 responses



• Romania
26 Nov 10
I hate both Real and Mourinho, but I have to say that Mourinho is one of the greatest coaches in history. He knows almost everything about football and I am sure that he knows that is no rule which is against this practice they did. And because he followed the interest of the team, he can't be accused of nothing. As much as I would love to see them suspended, I don't think there is any rule against what Real did.


• Malaysia
27 Nov 10
Here is the scenario. dudek tell cassilas about the message that ramos and alonso already have been booked,should time waste and seek second yelows and then they will miss in next meaningless game against auxere. After one game suspension they are clean anyway i think mourinho dont want take any risk if he loss key player in vital match.

• Singapore
27 Nov 10
Mourinho, Casillas, Dudek, Ramos and Alonso are now charged for improper conduct. This after they conspired to get Ramos and Alonso sent off so that their yellow card count is wiped off. If found guilty, they might get suspended longer than they have asked for. Knowing Mourinho, he is capable of it. Remember how he lied about Swedish referee Frisk and how the hiding in the clothes basket.