Gift items in SM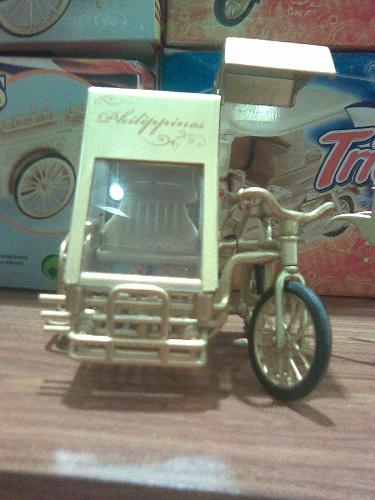 Philippines
November 30, 2010 9:55am CST
I was walking around in the SM Department store.It has been a habit to look at native products. I have been patronizing Filipino products since my freshman year in the U.P. Diliman. I saw miniature jeeps and tricycles.I thought that it is nice to give them away to Filipinos abroad. They are cute
6 responses

• United States
1 Dec 10
yeah they are so cute but I think it is over price. It is too expensive. It cost almost 400 0r 500 pesos each. My mother in law bought that and gave it to her 2 year old grand kid. Since it is not that durable I think it will only last 1 day as a kids toy. If I were her I would not give it as a toy. It is best to display in as a center piece or look good in the cabinet.

• Philippines
11 Mar 13
yes that would be more okay if you will give them a thing that will symbolize our country,because for sure they miss riding on it,even if the Kalesa is still good,because once you are in the other country you will find something that you will remember your country.


• Philippines
1 Dec 10
i also saw them and they're cute! i love passing by the kultura shop because a lot of new things are in there. Filipinos are so innovative and make many creation with simple recycled things. i like how they make simple thing like straw, the ordinary ones, to make a bag. its nice and unique. i bought one of their cacha bag which are cute and eco friendly too. i used them when im strolling in the malls. beside that, i can also help other people who are making them by just buying their products.


• Philippines
30 Nov 10
Yeah i saw them too. But in my case I try to give them as presents to foreigners to remind them of the wonderful things they have experienced in our country.