How to deal with dog poop? (sigh!)

Philippines
3 responses

• United States
6 Dec 10
It looks like the other two responses both gave you great solutions so there's not really anything I can add except to reiterate the fact that it just takes patience and persistence to potty train a dog. And the understanding that you'll simply have to clean up a mess here and there until you get the dog trained. I have four dogs and they all stay in the house and are all four potty trained. But even then I occasionally but rarely come home to a "smelly" mess. Keep an eye on the puppy as much as you can. You'll notice his/her habits right before a bathroom break. When you see that the dog is getting ready to relieve itself interrupt him immediately and take him outside. If you wait until he has already committed to interrupt him it'll be too late to stop him from doing his business in the house. Usually when a dog is about to poop he will sniff for a spot and then circle it a few times. If you see him doing that stop him immediately and take him outside. He will eventually get the idea. Also, a puppy's bowel and bladder functions are not as fully developed as they are as an adult so it is harder for them to hold it for a long time. Training pads are also a good tool to use especially for a dog that stays indoors all the time. All four of my dogs are full grown and I still use them when I am gone for long hours during the day. I usually have nothing to worry about but occasionally they have to do their job. With a training pad you just have to teach the puppy that if he "goes" in the house he has to go on the pad. One more thing. The first responder stated that a dog won't go in a kennel cage. This is true only if they can hold it. We all have moments from time to time when we just can't "hold it" any longer and dogs are no different. One of my dogs actually does stay in a kennel cage when I am gone and on more than one occasion after coming home from work(which is 10 or 11 hours) I have had to clean up a "mess" in here cage. Fortunately, this is a very rare occurrence. So, a kennel may help but don't expect it to be fail-proof. Just be patient, stick with it, and enjoy your new dog. And eventually you'll be a dog pro just like the rest of us.LOL Hope I helped. Good luck.

• Philippines
7 Dec 10
Haha! Oh yes, I learned new ideas from the other two responses. But still I thank you for adding more. I really need the patience since this is just my first time to have a pet dog at home. Its just like having a new family member, a big responsibility. But I really enjoy having the puppy. Whenever I come home from work, he'd come to me and kiss my hands and feet! So funny and cute, a real stress-reliever! Dogsnme, I would like to add you as friend, too. Please help me be a dog pro just like you, guys! Thanks once again. :)

• United States
7 Dec 10
You are welcome, carolobis. And I accept your friend request. Dogs are wonderful pets to have. When I got my first dog almost 8 years ago I never imagined that I would eventually get three more. In fact, the other three are rescues. They can really get on my nerves sometimes but they also bring me a lot of joy. And, because of them I've learned about a lot more than just dogs. I couldn't imagine my life without them. A good resource for learning about dogs and how to train them to be good, obedient pets is Cesar Milan's show The Dog Whisperer if you can get it where you live. Again, good luck with your new friend and feel free to message me on here if you have any questions. I'll try to help as much as possible.

• Romania
6 Dec 10
Hello Carolobis, and welcome to myLot! You didn't tell us anything about the puppy's age, nor about the vaccines he has. (In my country it is recommended to keep the little puppies inside until they have all their shots done, because there's a huge risk of getting parvo or distemper viruses.) If he is a small puppy, accidents may happen until he's 5 months old, no matter how much you try to avoid them. First you have to choose that "one place". If you are allowed to take him outside the house, that place can be outside. Then, you have to take the puppy to that place every 2 or three hours, and to keep him there until he does his duties. If he go to the bathroom in the right place, you must enthusiastically congratulate him. If he has any accident, you must not punnish him, just take him to another room and clean the place. Don't clean when he's arround, or he will think it's a kind of game, and he will repeat the "accident". You should know that a little puppy has a few moments of the day when he needs to go: - first thing in the morning, when he gets up - first thing after a meal, or after he drinks water - after a playing session - every time he gets up from a sleep - the last thing before going to sleep. If you can't keep an eye on him all day long, you may consider puppy crate training. Here's a link to an article about it: http://training-dogs.com/crate-training.html

• Philippines
7 Dec 10
Hi, inu1711! :) My puppy is 2 months old and he was just a gift from my cousin. Its only been 3 days since we've taken him home. Thanks you so much. Now I know that I shouldn't be cleaning his poop when he's around. I am really learning. The link that you gave is very helpful. Is it alright if i add you as friend so I can ask you questions about dogs?


• Philippines
5 Aug 11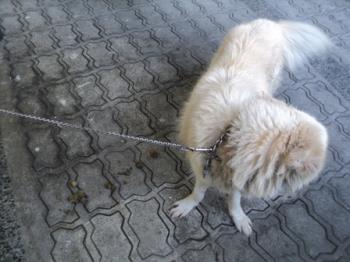 We have the same predicament the only difference is that I don't allow my dog inside my house. But still I have to deal with dog poop most of the time. It is smelly and one thing I really hate but what can I do? That is part of keeping a dog at home. Every after eating he would poop and so I need to sweep it out and his place has to be washed all the time so my place won't smell like a zoo. I don't have time to train my dog. I can't even bring him to a walk either.