Fallout from the Quirino Grandstand hostage-taking

Philippines
December 12, 2010 3:03am CST
I'm sure Filipino mylotters will remember the Quirino Grandstand tragedy where a dismissed cop killed Hongkong nationals in front of live TV. This became a black mark on the Aquino government. I wondered at that time about the political consequences of the tragedy. Now I see the kind of compromises and trade-offs we have to make for the sins of one citizen and the negligence of the government. We had to bow down to the wishes of China to boycott the Nobel Peace Prize award. We are now paying our political debt. We gave up our principle just to get on China's good side. I wonder what else we have to give up. Truly disappointed with the government.
4 responses

•
12 Dec 10
That's last August 23.I remembered that hostage situation.If Pnoy made August 23 a holiday, this will not happened to Hongkong tourists and cop.Every country and drama were seen in the international news.After the situation, our government is very careful what they do.They are experience and know what to do if there is a hostage situation again.Hopefully,it will not happen again.

• Philippines
13 Dec 10
Yes, that's exactly what I meant. I agree that it was a fiasco. My point actually is that we should not let the Chinese government blackmail us into setting aside our stand on human rights by using this incident.

• Philippines
12 Dec 10
Because of that incident many things had changed in our country particularly the tourism and economics. I'm working as a reservation officer in one of the hotel here in the Philippines. And I say that it really affects our tourism. Before the incident, many Koreans, Americans and Chinese are visiting our country. However, when the incident happened we received few reservations from those I've mentioned above. Even though we give promos still few response. I guess our economic status will not change unless we have a good leader. Actually, not only the President and Police Officials have a fault in this incident but the media also. If they didn't broadcast it internationally then I think it will not occur this kind of problem. It is very embarrassing to us Filipinos of what happened. It only shows that we don't have a good leader, train police officials and pride.

• Philippines
12 Dec 10
That was an national embarrassment we could never forget. It will be a long, long time before we will be able to gain back the trust of other countries. That is, if we do not repeat the same stupidity. Otherwise, the reputation will remain.

• Philippines
13 Dec 10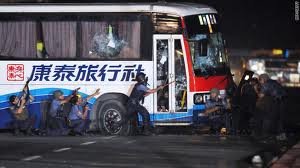 Hello TheAdvocate

, Well, as for me, who cares about that Nobel Peace Price Award. I think it should be our own people we should take a notice upon when it comes to awarding them with the nobel peace price award for protecting the people of this country. as for that Human Rights person in China, it has nothing to do with our country, so in my opinion not my business.

. Besides, the Issue with me against China is the Spratlys, That is OURS and they are slowly taking it bit by bit. just like the other nations who are taking it as well when that island should have been OUrs and untouched.

Other Nations are taking this opportunity while we are at our weakest state.. Another view i like to share is simple, we chose the
"wrong leader"
in this times.regardless if one disagrees or not.i hope we all get through with this alive after six years.