Your opinion about Logiptc?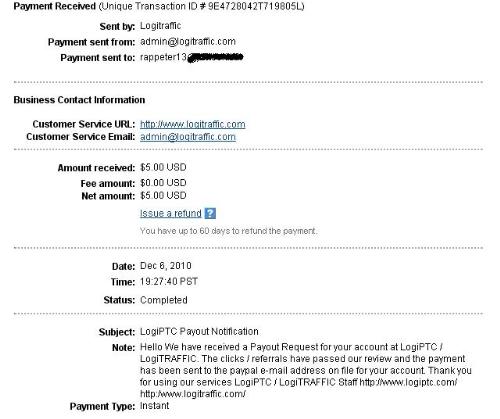 Romania
December 14, 2010 8:42am CST
Has anyone tried it? If so, are you satisfied with it? I am a member of it and I have to say that it is one of my favorite. And I can claim that they are legit, because they paid me several times. I will add a payment proof as well for you. Anybody has any negative experience with this site? Please share with me.
2 responses

• Chile
14 Dec 10
I jusr checked it when you wanted to trade it with me and discovered I already had it. I´m going to install the toolbar now. That´s for the tip. I need some extra money for Christmas and a couple of my new sites went scam so I lost my work there

Happy posting!


• Romania
14 Dec 10
You should do it. Today I have already made more than 30 cents plus 3 cents from my referral.

• Chile
14 Dec 10
Thanks a lot. Do you happen to have PayBox.me? I don´t have it and I´d love to trade


• Romania
14 Dec 10
I don't have it because it sounds a little bit too strange for me. I think it is a big scam. Or am I wrong?


• India
15 Dec 10
I have plans of joining that site one of my friends has invited me there so what do you feel about that site.

• Romania
15 Dec 10
It is one of the best sites, I make around 20-30 cents a day, and I have a referral which brings me additional 3-4 cents per day. So I would definitely recommend it.