Bedtime Stories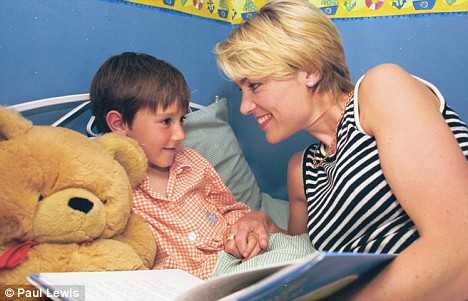 United States
January 5, 2011 2:26pm CST
I was just remembering when I was small how my mother and grandmother used to read bedtime stories to me. It was so comforting and relaxing just to hear the sound of their voice. As a mother I try to read to my children before bedtime, but sometimes I so consumed with dinner, chores in the house and school that I sometimes don't get around to it. I have decided tonight I will try and make that a part of my routine, because if I enjoyed as a child and I don't want to deprive them of the same thing. Do you read stories to your children at bedtime? Did your parents read stories to you during your bedtime and did you enjoy them or not?
6 responses


• Canada
5 Jan 11
Very true! I love the feeling of bonding that I get with my daughter when we read together! I can't wait to do it with both my girls when my one year old gets a wee bit older!

• United States
6 Jan 11

I couldn't agree with you even more, these are memories me and my hubby truly cherish.

• United States
5 Jan 11
My husband and I try to read atleast 1 story to our girls every night. About 20 minutes before bedtime we snuggle up in their bed to read. They love bedtime stories and definitely don't let us forget about it. We love it too. It's a great chance to unwind and relax with the girls. Reading to your children for atleast 20 minutes everyday is a great way to foster literacy skills. I don't remember my parents reading to me when I was little, but I'm thankful that I have the opportunity to share some really great children's literature with my girls.

• United States
6 Jan 11
Bedtime story time is quality time that you get to spend with your children cuddling with and have a special time with them, especially when they enjoy it. That is one of the best quality times I spend with, why because just looking at their faces while you are reading to them and how they tend to get closer to you because they want to see the pictures that are in the book. I just love those moments. Those are the memories that we get to cherish and talk about.


• United States
6 Jan 11
I am also trying to make it a habit, but let me tell you with our schedule it is sometimes impossible. I am glad for her though, that is quality time that she gets to cherish with her children and memories and time that no one can take from her and her children.

• Indonesia
6 Jan 11
I love reading or telling stories. My mom was not keen on reading, so I did not have that luxury of being lulled by a bedtime story. When my nieces and nephews were small I told them stories. They would gather around me and asked me to tell stories. They love it because I mimicked all the characters in the stories.


• United States
6 Jan 11
Unfortunately not to parents have the luxury or time to read bedtime stories to their kids because of work and their busy schedule and sometimes I myself including my hubby are at fault, but I am trying to make it a habit of making part of our schedule. It is nice that you read to you nieces and nephew I am pretty sure that they enjoyed every minute of it. And the best part of it, is that you made it fun and interesting.


• Canada
5 Jan 11
Sometimes my parents would read bedtie stories to me and I did enjoy it as a child, that is why I make sure that my oldest (4) gets a bedtime story every night before bed. If I am busy with something like dishes from super, laundry, cleaning, or what have you then I make my hubby do it!

I feel that it is very important and so I make sure it gets done! My youngest is only 1 and does NOT have the attention span for a story, but I do read her little bits during the day in books where she is using her hand/eye coordination (picture books) and Im trying to get her to start talking as she copies me if I say a word enough times over and over!

• United States
6 Jan 11
I know exactly what you mean, this evening I made effort of stopping what I was doing and sat with them before I put him down to sleep, I have a 3 and a 4 year old and both enjoy stories. I told my hubby this weekend that we need to try and make the effort of reading to them every night or at least 4 to 5 days a week. You are absolutely right it is important to do that for them.

• United States
6 Jan 11
My youngest just turned 2. Until recently she didn't have the attention span to listen to a whole story. We just looked at the pictures together and let her point to different things. When she got tired of that we let her hold the book and "read" it to us. Those strategies helped us turn her on to books. Now she loves to listen to stories. She still likes to read to us too.

• United States
5 Jan 11
I don't remember my parents reading any bedtime stories to us when we were little, but they worked a lot and sometimes didn't get home until well beyond our bedtime. I did read Dr. Seuss stories to my little brother when I was about 10 or 11 and that was quite fun. Especially getting to see when he was starting to be able to read on his own.

• United States
6 Jan 11
I understand sometimes when parents are working so many hours it becomes difficult, but it was nice of you to read to your little brother and I am pretty sure he loved it.