What do you do incase of Flooding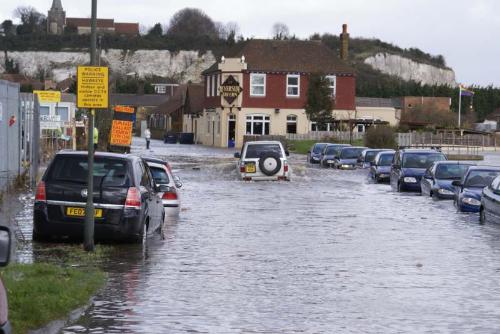 Australia
January 11, 2011 5:52pm CST
Right now my place is experiencing Flooding... in Australia brisbane. It may be stupid thing to think like this, but it's kinda exciting to see such disaster happening at our place. As an overseas student, it was my first time experiencing Flood. Its sad too to heard from the news that 10people were killed by the flood and 59missing. How you ever experience Flood before? Yesterday I needed to pack all my things in 30mins... I was so confused that I finally bring three quarter of my stuffs with me.. lol What would be the first thing you need to pack? One of my friend was telling me that rain and snow are the same...too much snow is almost as dangerous as too much rain.
4 responses

• France
12 Jan 11
I have never had my home flooded but I have experienced many small floods when I was a young student at university. I remember that one day, I was doing photocopies of my lessons -- I had to cut some classes to work -- near the river, and I scarcely noticed that they were putting chairs, papers, etc on the tables in the shop. It is when they powered off the machines that I realized that the water was at the door. I am often in the clouds...

Later, I was working in a town when came there what they called the "flood of the century". It was a flood like the one you have today and I saw some houses with water up to the second floor. It made also some victims. I have a funny anecdote about this flood, but it is not the moment to tell it when you have one in your country. I wish that your house will not suffer too much during this flood. Have a nice and sunny day.


• India
12 Jan 11
Hi xxj3ffxx, I have never experienced flood. But to be safe better pack your valuables like money gold or cards and food and wait for the rescue team, to be take out to a safer place. Keep all you electronic items like TV refrigerator etc as high as possible in your home so that they don't get drowned in water if water enters your home. Try calling rescue team if your cell phone is still working, try to pack food as much as you can because you need to eat till you are alive. These are the basics when you place/town/area is affected by floods. Wish you come out safely and the flood reduces. Happy Living Calpro

• Malaysia
12 Jan 11
Hi xxjsffxx, it's really sad to learn that there were so many people killed and missing in the floor in your current place. You are so lucky still could get majority of your personal stuffs packed in time before leaving the residence. It seems that this is a real experience for you to undergo such disaster the first time. I think it had become one of the lessons which you have learned in real life as an overseas student. We have monsoon wind these couple of months. Many people living in the coastal northeast, especially residents live nearby the river and coast experience the undesirable floor after the severe rainstorm. I live in the northwest region and the central mountain range blocks and reduces the blow of the monsoon. Therefore only minor floors happen in certain low lying areas. One of my college mates had come across the disgusting flood almost every year during rainy season here. Her house is situated nearby a river in another small town which is 20 km away from my place. I could see the awful situation of the indoor as well outdoor building after the floor. The waist high water had damaged the furniture, et. They had to consume time to get rid of the nasty slurry, as well as expenses to replace the damaged stuffs. They experienced the same undesired floor yearly for quite some years

I'm glad that the undesirable floor never happens again since the river water was led to a mountain valley many years ago. This huge artificial lake has become a popular beautiful tourist site nowadays

Visitors could have fun fishing or boating or ....there. Have a nice day