Smiley Burns Hurt!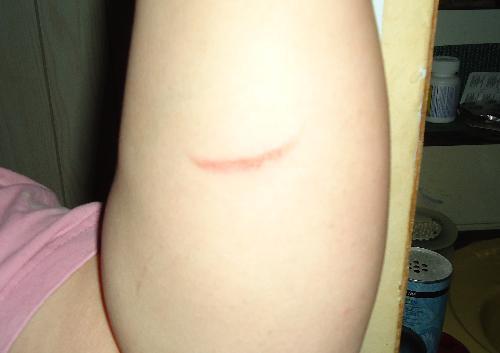 United States
January 12, 2011 1:26am CST
Saturday I was making a pizza. Well, it was a frozen "Tony's" pizza but I add extra toppings and make it a really good pizza with my own fresh stuff like extra pepperoni, pepperoncinis, bell peppers, olives...you name it, I'll add it! Well, I had forgotten to add one of my toppings and it had only been in the oven for a couple of minutes so I reached in and pulled it out, setting it on the top of the stove. I went to put my extra topping on and one piece fell off the pizza so I reached down to pick it up and POW! The pan bit me! I hadn't realized how hot the pan had gotten in so short a time in the oven until the inside of my arm touched the edge of the pan. Ouchies!!!

As you can see in the photo, it made a perfect smile impression on the inside of my forearm. It really stings, too...even after three days! This photo was taken today, Tuesday, and the incident happened on Saturday!


4 responses


• United States
13 Jan 11
Thanks, Elic. I should have thought of that. My parents grew aloe as house plants and swore by it.


• United States
15 Jan 11
Probably the vinegar in it that does the trick. I know that vinegar can be very soothing.


• United States
24 Nov 11
Ouch! I hope everything is fine now since it's been nearly a year since you posted. you know it's weird how with something like cooking and burns it takes a few moments to even know what we did. Boy that pain lasts longer than that forsure!

• United States
24 Nov 11
Yah, I still have the scar but the memory of the pain has faded a little now. lol


• Philippines
12 Jan 11
Hi Friend, next time be careful when holding those hot pots and pans, guess you already applied first aid treatment, anyway take care that it does not get infected otherwise it might leave an ugly scar

good luck next time

• United States
12 Jan 11
The worst part is that it's itching now but if I scratch, it hurts like crazy!


• India
12 Jan 11

i can understand that few day ago while making pan cakes i got hurt and its still hurts when cloths touches. I am applying cream everyday and think that what i was thinking while making pan cake to be so careless

.

• United States
12 Jan 11
Yes, it hurts when I put my jacket on and the sleeve rubs on it. It's very cold out, too, so I have to wear my jacket. I'll be glad when it's healed.