What is happening in our country, General?

Philippines
January 17, 2011 10:33pm CST
This question according to a report this morning is a question by General Pelaez on dekada 80 to General Karingal,in which the case un-able to solve by General Karingal. However, with the same question thrown by family of General Karingal when He assassin by the killer and unable to solve the case. Now same question is asking by us to our PNP General and President which two crimes have been done with the same style of killing took the car, killed and burnt the body... What is your oppinion and views about this? share to us....
4 responses

• Philippines
18 Jan 11
hello friend, There are good people in the military service,i still believed in this as i knew few good men. What makes our law enforcer having bad image are those corrupt and unlawful law makers. I still believed in our men in uniform...but not those in the senate.(are they doing their job?..or are they making money for their own benefits? Have a good day


• Philippines
18 Jan 11
Hello friend, Me also believed that not all in uniform are having such killer machine, we don't know the real intention of those people. Also we know that our law maker have to blame but do you think we as common tao has no involvement here, has no blame to throw us, I think we are all responsible not only point finger to others. My question here in my topic is like a father asking from his children what happening in our family? why such and such situation is happening? you got me... see you around and thanks

• Philippines
18 Jan 11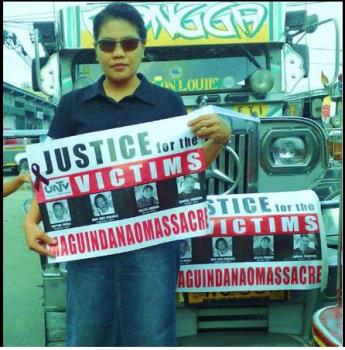 ok...so since you are referring to the father... i don't much say to our president (nothing much to judge at this time) General ..next to the Presidency (not to bypass the vice-president) I am one of the crusader for justice...i am not pointing my fingers to others as i am doing my job and responsibility as a citizen of this country (from save the earth movement like tree planting,cleaning the Ilog Pasig,rendering medical services and charity works i been doing these works for more than 13 years now) Until now we are fighting for the justice of Maguindanao massacre (4 of our media men were killed in that brutal killing.) We held concerts to raise funds for the family of the victims...ok enough for that (i am doing my part...i don't know about the others) attach here is one of the proof when the massacre happens

• Philippines
18 Jan 11
Ok my friend don't mad on me, I just know now that you are the one and I beleive in you. Yeah you're correct you done your part only mine and others are not yet. So only I can say the truth will see us free meaning whatever happened the end of the day the truth will prevail, so from your fight go and fight for justice. I admire like you and hope you can... see you around


• Philippines
18 Jan 11

hi visavis, I don't know..haven't watch any news this morning since i woke up around eight in the morning at the earliest. but i have to be honest, that our Law enforcement has deteriorated. Not only in numbers but also services and technology. I believe this question posted is a bit ignorant. who asked that question should have realized that anything is happpening in the Philippines since we have SO MANY people now and it's population is dramatically increasing in the Metro Cities. while in rural areas services are drastically scarce. dekada 80s are different compare today, which is a lot worse. i don't need to be specific on this, but let's just make our country better instead of wondering much about the past.


• Philippines
18 Jan 11
I believe this question posted is a bit ignorant
- and this was meant for the dekada 80 general not you

.

• Philippines
18 Jan 11
What is happening to our country? You don't need to ask it to a General,even an ordinary Filipino can answer this. The country is full of corrupt and inept officials. The people's tax money are wasted on the schooling of these military and Police officials. What they learn in Military school is how to protect their own kind and not the people. What they implement are not the laws but the syndrome "For the boys, of the boys". As long as they have this kind of mentality, we can't expect progress and true peace and crime eradication in this country of ours. Overhauling the Military, its concept and old habits should be done if ever we want genuine change and service from them.

• Philippines
18 Jan 11
May be my friend your right because you know according to the general who interviewed in that portion said that under control and people will not worry about the present crimes happening. Where the Philippines going if such ways and present situation? see you around