anyone love hotbrowns as much as me. ?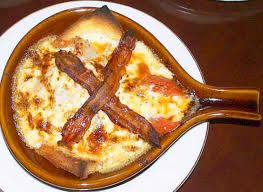 United States
January 24, 2011 8:52pm CST
does anyone else love hot browns, i had never had one and i went to a local diner for supper and i ask what came on it and i was supised it was huge and had lots of turkey , cheese, tomato and bacon on toast covered with cheese quasedo sauce yummie just wonder if anyone else loved the hot brown. it has prob been around for years and i just never thoguth id like it . i know some people use ham on it too .. so i got the stuff and i made my first hotbrown and it was really good not as good as the resaturant but for a first time i was proud and i have plenty ingredients left to make more later ... what do you think about hot browns ? blessings laken
1 response

• Bulgaria
25 Jan 11
Hello hun, here we call that "pot", we put frankfurters, baked pepper, cheese, tomatoes juice and at the end, when everything is baked good, we put egg at the top, to bake with the "pot". It can be done by many ways. As example i've eaten before "pot" done with frankfurters and boiled potatoes, with melted cheese inside and at the top egg again, it taste so great.

In that pot my favorite meal is cheese with tomatoes. I just love it if it's baked with tomatoes and little backed pepper too. They serve it in restaurants and it has so amazing taste, that i can't stand by the tease.

I'm a cheese lover, so every kind of cooked cheese is something delicious for me.