Pleasing Me, Pleasurable Me

January 26, 2011 6:33pm CST
If there is one thing you can say upfront about this movie,it is James Bond versus the bad guys with the help of his cheeky wards. Like Mad Magazine's 'Spy versus Spy', 'Despicable Me' is dark and brooding and yet funny and lovable. The transformation of baddie, Mr Gnu to comforting Dad is a breath of fresh air despite his attempt to steal the the moon to be the villain of all. Believe me, I enjoyed this movie as I had little expectations. Steve Carrell tops himself once more here. Like in 'Toy Story',the 'small little creatures', as usual, stole more than half the show! Have fun! It is definitely "Pleasurable Me" for me!
2 responses

• India
25 Jun 12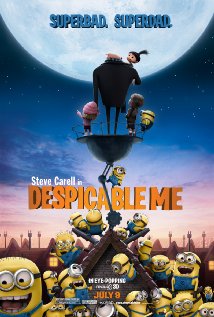 Yes Despicable Me is one great animation movie to watch, I loved the way the movie is made. Steve Carrell voice for Gru was perfect, I just loved the story, Gru's character was exceptionally made. There is a 2nd part for Despicable Me scheduled to be released in 2013, one of the movie I think it's worth waiting for ...

• United States
6 Feb 11
this movies is eye-catching and hillarious. you should watch it and it almost made me cry at the end -5 star movie!