Walmart is making makeup for eight year olds

United States
January 28, 2011 1:30am CST
Society pushes our kids to grow up too fast as it is. Now Walmart is launching a real makeup product line for eight to twelve year olds. Call me old fashioned but I was not allowed to wear any makeup till I was into my teen years. If I got caught trying to put any on, my mom would tell me to wipe that crud off my face. I think that it is just another way for society to rush our children into growing up too fast. Here is a link: http://blogs.chron.com/shopgirl/archives/2011/01/walmart_launche.html
7 responses

• United States
28 Jan 11
Oh my what is the rush. Why on earth would any parent purchase and or allow make up on a child. Good grief, then later they will go on about, Gee, I have no clue how she became this way. We as parents must lead by example, it is one thing to have a play-date and play cosmetology for an hour with the barbie makeup but to be allowed to go to school and or anywhere actually at 8 years old with a full face. Ugh. Walmart also should not be promoting that shame on them also.


•
28 Jan 11
Here in the UK, a range of underwear and swimwear for kids was withdrawn, because it was PADDED BRAS and bikini tops for little girls. That really is gross. The saddening thing is that parents must actually purchase it because otherwise these places wouldnt stock it for sale.

• United States
28 Jan 11
I totally agree. Stores shouldn't be selling these kind of things for children. They grow up soon enough. Let them have a childhood first.

• United States
28 Jan 11
I have to also agree and add that if the parents would not buy them they perhaps would not keep stocking. The saddest I see is an eight year old with jeans that have the glittery letters on the behind that say "Hot Stuff". OMG, who in their right minds finds that attractive, let alone funny. Too sad!

• United States
28 Jan 11
I am a mom to a three year old and there is no way she will be wearing makeup at 8 that is just crazy. She wears chap stick and that is what she calls it. That is only when she needs it but where we live it is so dry she needs it. We do paint our toe nails together, ok I do all the painting, but that is all. I have seen moms taking their three year olds to get pedicures, that is a bit much to me. It is crazy how so many moms use their daughter as really living dolls. I have been shocked to see some of the clothes they make for little girls it is just crazy. I will not buy my daughter shorts if her butt is going to hang out and there are a lot made like that and little half shirts. It is just crazy! Walmart will do what they think will bring them money and the sad part is that this will probably do just that. As parents we are the only ones who can put a stop to it. If people don't buy it they won't have a reason to carry it anymore.

•
29 Jan 11
chap stick is more like medication though, so that's fine. Painting toenails is fine too. not like anyone's going to be seeing it. I hate how some moms use their kids like dolls too. Another thing that annoys the hell out of me is people who take their little babies to get their ears pierced. Thats just monstrous! I probably wouldnt want to take my babies/infants to get their shots, never mind mutilating their ears! But like you said, its only parents who can put a stop to it, and sadly, some parents continue to buy it.

• Philippines
29 Jan 11
hello linda, i too discourages my daughter about make ups. it will make the skin age fast - an unnatural way.

and for 8 years olds? why would they like to look 20 or older. its just not practical.

have a nice day. ann


• United States
28 Jan 11
The nine year olds in my fourth grade class wear make up. They wear outfits I was not comfortable wearing until I was in my late teens. I think that places sell what people are buying. It is the parents fault for buying the stuff and allowing their children to wear it.

• United States
28 Jan 11
I don't think anyone that young should wear make up. I wear make up now but I only wear foundation I don't wear anything else unless I'm going to like a party or something then I'll get all dolled up but that's it. But children that young don't need make up. Most girls where make up to impress guys but I don't think that's a way to impress a guy. Some guys get turned off by how much make up some girls where. But really why does an 8 yr old need make up? Way too young. This world is going nuts.

• United States
28 Jan 11

We have to draw some age boundaries on makeup sometime. At eight, what kind of makeup would a child need. the teenage years are soon enough to start wearing makeup.

•
28 Jan 11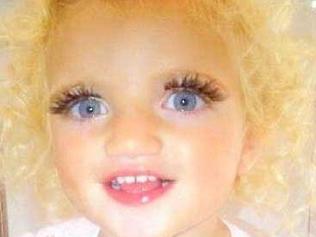 This is no surprise in todays society. I find this to be disgusting. I was not allowed to wear makeup until I was in my later teens. My mom used to go mad with my dance teachers when they made me wear makeup so the lights in shows wouldnt harm my skin (I used to do ballet). On this topic, a few days ago, there was a sad story about a single mom and her 4 kids, where they had a fire, and the mom escaped but all the kids who were under 10 all ended up dying. Well in the paper, there was just one picture of the little girl that was 6. She had FULL makeup on. I mean, bright red lipstick, eyeshadow, red cheeks, mascara. It was sick. I told my other half about it, and he said that he thought the girl looked like she had a black eye and that was why she'd been so dolled up, but I mean, they must have had loads of pictures of the kids, couldnt they have used a more respectful image?! I know its no benchmark, but you have celebrity moms like Jordan who are just disturbed. She paints her toddler's nails, straightens her gorgeous naturally curly hair, and puts FALSE EYELASHES and tonnes of makeup on her. Its rather nasty. Its is actually a form of child abuse.