A message to my favorite girl

United States
January 28, 2011 8:50am CST
Ever since I was a little boy, I would constantly beg my parents to get me a dog. I used tactics such as offering to walk, feed, and clean up after the dog if they were to get one, but they continued to hold off until I was in 5th grade. We got a call from my moms sister who said that her dog would be having puppies and we had to drive up to see them when they were born. Her dog was a female chocolate lab and the male dog was also a chocolate lab. My parents weren't showing much interest in getting a chocolate lab, but we still went up to see the new born puppies. On our way to my moms sisters house to see the puppies, we got a call from my aunt saying that one of the puppies came out a golden lab. My parents displayed a much higher interest in the golden lab than they did the chocolate lab, but still would not give in. When we finally arrived and saw you for the first time, there was no way we would be going back home without you coming with us. You were our little miracle puppy. It has now been eleven years since we picked you up, and I have to say, you've been the best dog a guy could ask for. You're personality was exactly what our family was missing - you truly made us all better individuals, and brought us closer as a family. You are now eleven years old, so we don't have a whole lot of time left together, but I want you to know how grateful I am to have grow up with you in my life. You're one of a kind and you will never, ever be replaced. You'll always be my favorite girl in the world, and I will always love you. The relationship I have with my dog has been a blessing, so I wanted to express my feelings to show how much this dog means to me. Have any of your pets had this type of affect on you?
1 response

• Romania
28 Jan 11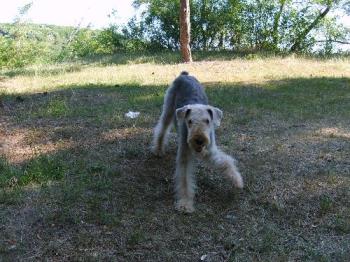 Hello jmwalsh and welcome to myLot! Your girl was one of a kind right from her birth! The only one golden puppy in a litter of chocolate labs! It was a sign she will be special.

You're young, you will have many dogs from now on, but your little girl will have her special place in your heart. I also begged my parents to let me have a puppy as a child, but I was not as lucky as you. I bought my first dog after I finished the University. I had my own apartment, a job and all the means to take care of a dog myself. I loved my blonde Airedale girl so much! I had to let her go in December 2009, but she's still with me. She will always be in my heart, even though right now I have another Airedale girl that I love very much.