Do you think womes should hide themselves behind burkhas or cover themselves ?

India
November 18, 2006 11:30pm CST
I think every human being is is whole and solely responsible for his act..So Why should we force him to do so...They should be free for the dicision....What do you think ??? No offence please. I want to really know what womens or girls feel on the topic...
7 responses


• Indonesia
26 Nov 06
I choose to cover myself, but not with burkha. I dont cover my face, as described in my picture. I do it to avoid disturbance from 'bad' people who likes to disturb women. I feel save wearing it, and people wont stare at my body as if I were a 'naughty' girl. Here, where I live, women who do it are truly respected.


•
21 Nov 06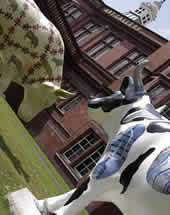 i see no point in it what so ever how can i talk to someone when i cant even see their face it is difficult and makes it hard to understand the person

• India
21 Nov 06
Women and men are equals.Why should woman hide herself.