Time, which is the "philosophy" of life?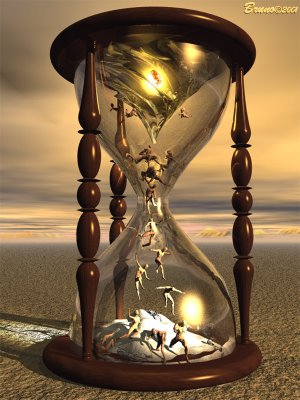 Romania
January 30, 2011 10:42am CST
Time is a huge river that leads to him the events of our universe. Time has only one direction. He's not coming back again. It is available as a result of movement of matter in the universe.Time does not return back.Regrets can not change anything ..And yet ... What is time?
4 responses

• Bacau, Romania
30 Jan 11
For me time is something that goes too fast when I feel good and too slow when I go through boring or unpleasant moments.

• Romania
30 Jan 11
But is there time? Or is it just an invention of ours, the people? To measure the smallness of our lives? God is timeless, yet he left the weeks and months . .. Love is timeless and yet ....If I could stretch the time I use it to study more than usual. If I could shrink the time it would compress when they sleep, do not lose much time.But, if I could lengthen, then sure I will when I'm with my husband and our daughter, because this time is too precious to be lost.Thanks.

• United States
30 Jan 11
That is true that we always feel time runs fast when we are happy and when we feel bored, time seems go slowly. But we can find a lot of ways to keep our happiness and kill the boring, right? So, live a happy life is easily. In other words, we can spend more time with happiness than unpleasant. Do you agree with me?

• United States
31 Jan 11
I don't believe in linear time. I believe that all time; past, present, and future; is one. You are right that regrets cannot change anything, but regret is only a lens of ego. I do not regret. I accept my mistakes, learn from them, and move on. Regret is the result of dwelling too much in the past, of refusing to let go. We need to live in the now because now is the only time which exists.

• United States
30 Jan 11
I totally agree with you. It runs and never come back. Time always left us regrets that we have no chance to fix them. Time also console our scar even if we hurt badly. I believe that time can change everything. In the whole world, there is nothing that we even have no chance to control except time. there is only a few things that is absolute, time is one of them.

•
30 Jan 11
isnt time to do with the sun going around the earth? then if it is we cannot change it. I think regrets can change things. You cannot change what you have done but if you have regretted doing something then change it by not making the same mistake twice and doing things differently next time.