awesome cloud formation

Philippines
February 7, 2011 6:47am CST
I went over the personal files in my computer to see if there are those that can be deleted already. In one of the folders, i came across with this picture, which if my memory serves me right, was taken by me from my cellphone at dawn some 2 or 3 years ago. When i deeply looked at the picture again, i am still amaze with that cloud that formed into eyes, as if somebody is watching me from heaven.
3 responses

• Australia
7 Feb 11
The photo didn't upload but I often look out for cloud formations, I love photograpky and would love to get a shot of some strange looking clous formation, maybe one day I will...

• Philippines
14 Aug 11
I made a mistake uploading the photo, I am trying. Thank you.

• Philippines
4 Aug 11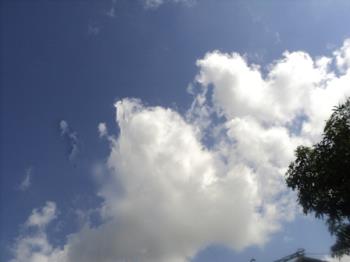 Clouds are beautiful subject of photography. It can form into various forms that can sometimes resemble into something else other than clouds. Well this morning I am so happy that the sun shines again after a week of raining. I took a picture of the bright sky and I just love how the clouds look here. It looks so bright and so peaceful up there in the sky. I wish I could play among the clouds.